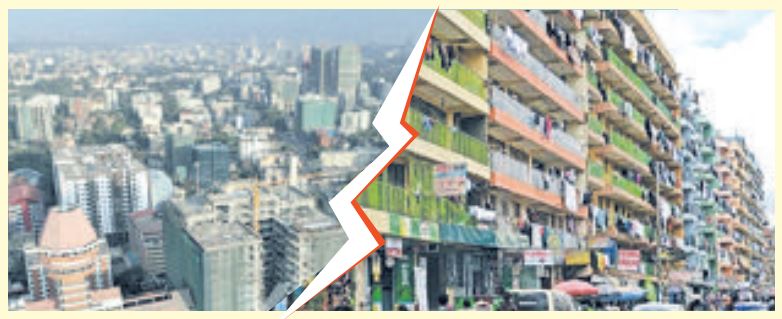 Nairobi's Westlands was once a sleepy green suburb with bungalows and trees. It has undergone a major transformation in the last decade with landmark buildings like Sankara Hotel, Westgate, the Sarit Centre and Delta Centre. Still, it retains an element of its old self; exuding affluence with its old houses with compounds.
Westlands could be doing even better but competition has been stiff from Riverside Drive, Thika Road and Karen with their new malls and residences.
Compare Westlands with Nairobi's Eastlands; the area that lies between Thika superhighway and Jogoo road. It is more crowded, hotter and not as leafy. While Westlands is hilly, this part of Nairobi is flat. It was the last part of Nairobi to be settled into and even now land is on sale. Incidentally, the estates built there after independence like Buruburu or Umoja were well-planned till we disorganised them with extensions and high-rise buildings.
The difference between the two parts of town goes beyond the weather and landscape. It's cultural too. Eastlands still retains countryside culture, neighbours know each other. The pace of life is slower. The number of people conversing on the streets on a typical day or evening is a good measure of "homeliness". This homeliness, is what makes Eastlands addictive. Many residents still want to remain there despite making enough money to move out. The human factor makes Eastlands a great place to live despite the heat. You know your neighbours by name, their children and temperaments. That interaction can't be priced, that human capital is a rare asset as we modernise. In Westland you may never see your next door neighbour. They are either in their homes or cars. Casual labourers are the easiest to spot as they go to and from work.
It's paradoxical that we still think loneliness is a sign of progress. We even give it a fancy name; privacy. As technology invades our lives through mobile phones and other gadgets, we are becoming more "private,"- lonelier and more anxious. Our reference point is virtual people, not real ones.
In Eastlands the human element still remains. You can call it the hustle factor. Eastlands might be considered backward compared with Westlands, with fewer high-rise buildings and less average income. But happiness could be higher. How many Westlanders were born in Eastlands? Share with us on your state of your happiness.
[XN Iraki; [email protected]]