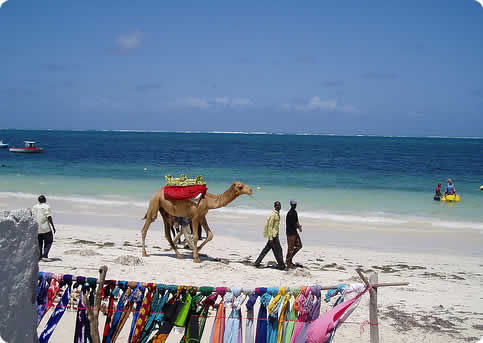 Business News
Mombasa raha is a popular phrase in Kenya. In Kiswahili, raha means fun.
Mombasa raha is a popular phrase in Kenya. In Kiswahili, raha means fun. The phrase is popular with visitors to the old coastal city that has over the years changed hands from the Arabs to the Portuguese to the British and to the current occupants. For some, raha is walking on the beautiful sandy beaches and swimming in the clear blue waters of the Indian Ocean. For others it's the warm humid air. Yet for others, it's the sexual pleasures away from the hustle and bustle of fast-paced cities like Nairobi. For locals, it probably has a different meaning. It is another question if they are partakers of that raha. It is also possible that Mombasa raha is a myth, more like the rainbow which you can't reach or touch Most visitors from upcountry to the coast tend to be affluent, with some disposable income. They leave their problems behind and enjoy all that Mombasa and other coastal towns have to offer. Their appreciation of raha is probably accentuated by their periodic visits, with holiday seasons swarming with upcountry visitors who now compete with foreigners to sample the coastal raha. If you have lived in Mombasa long enough, probably raha fades, subject to the laws of diminishing marginal utility. During my most recent visit, I had no raha. It was a working visit. In the privacy of my thoughts, I kept wondering how such humidity can be a source of raha. The nearest I came to raha was visiting the Mombasa Golf Club and admiring ships going to dock. Who can play golf at 33 degrees Celsius? With no raha, I decided to look for something else - visiting a cemetery, of all places. Mbaraki Cemetery in Mombasa was formerly called the English Point Cemetery. An unlikely tourist attraction, you might think. How can there be raha in death? I found men and women cleaning up the cemetery. They did not seem disturbed by the dead. My objective was to look for one particular grave and its headstone. Many husbands The workers told me they had no records and I had to physically look for it. Going through so many graves on about three acres of land was not fun. There are some well-kept graves with beautiful epitaphs. Others were unmarked except the mounds. The cemetery is full of diversity with the young, old, rich poor, black and white, indigenous and foreigners all sharing the final resting place. It had a special section, well manicured - the Commonwealth War Graves. The rest of the cemetery is not that pristine. Some gravestones and their markers have been ripped off; I was told for scrap metal.
I noted the same problem in two cemeteries in Nyahururu churchyards and at the Nyeri cemetery where Baden Powell, the founder of the scout movement, is buried. Mbaraki Cemetery appears old from the colonial times with a number of mzungus buried there. There is a corner for Goans with lots of D'Souzas. I found a Chinese too in this cemetery. Like a ghost, I walked around looking for the grave of Lady Idina Sackville, the doyen of the Happy Valley and its excesses. I called Juliet Barnes, Kenya's leading expert on the Happy Valley to help me trace the grave. We could not tell which of the many husbands' name she used on her epitaph. For the record, Happy Valley is a strip of land now called Wanjohi, hugging the Aberdares to the East in Nyandarua County. Its eastern border is roughly Gilgil Nyahururu Road while the northern border is Lake Ol Bollosat. It was rolling in the 1920s and 1930s with drugs, sex and wife swapping. Even homosexuals made this strip of land their home. Big houses still dot the place, a reminder of the valleys once golden age. A polo field is now someone's shamba. Lady Myra Idina Sackville was the valley's most famous socialite in her heydays. She had an aristocratic background, her father was an Earl. She was born in the UK in 1893 and came to Kenya in 1919. Her first husband was Captain Euan Wallace who she divorced in 1919 and later married Captain Charles Gordon whom she consequently divorced in 1923 and married Josslyn Hay better known as Lord Errol. He would later be divorced in 1930. Idina and Errol lived in a home christened Slains on the eastern edge of the happy valley (Wanjohi valley). The house is now in ruins with some old bricks scattered here and there. The house's layout is visible; it was a big house with walls made of mud. From their house, they had a beautiful view of waterfalls that cascade down into the Wanjohi valley. Slains is about 15 kilometres east of Ol Kalou town, the seat of the Nyandarua County Government. The mzungus seem to have easily learned to use local material. Another house nearby built by Geoffrey Buxton, which is still intact, was built in 1906. It has mud walls. Idina also married Donald Haldeman after Errol. The last husband was Vincent Soltau (married in 1939). Idina lived at the Clouds with Haldeman and Solitau. Many other lovers possibly made Clouds their home. It is a big house, which unlike Slains, is still standing despite being in a state of disrepair. It's a house to behold, complete with a courtyard where we are told she entertained her visitors. Clouds is about 40km east of Naivasha Juliet Barnes suggests that the death of Lord Errol in 1941 marked the end of Happy Valleys golden days. Is The Lord Errol restaurant at Runda connected with the real Errol? Lady Idina has remained the epicentre of Happy Valley and immoral excesses of colonialism beyond the mistreatment of Mau Mau detainees. Several books like The Ghosts of the Happy Valley by Juliet Barnes and The Bolter by Frances Osborne, a granddaughter of Lady Idina and wife of the former UK chancellor of the exchequer, George Osborne. Frances says that in 1945, Idina was very depressed and had a nervous breakdown then developed neuritis. Losing two sons in the war was hard to take. A doctor recommended her to live at sea level. She moved to Mombasa and visited Clouds whenever she could. She also visited her daughter with Lord Errol in the UK. When she returned to Kenya she went back to her maiden name, saying she'd never remarry. The Mau Mau uprising had begun and Clouds was not making money. How could Clouds make money while hugging the Aberdares, one of the theatres of the Mau Mau war? She had cancer and died in 1955. Her brother flew in from the UK to bury her next to her son Gerard Wallace from the first marriage. The other son was David Wallace. Both were killed in action during WWII. It is paradoxical she died when the Mau Mau war was ongoing. Idina's grave is near the entrance to the Mbaraki cemetery and next to the Commonwealth graves. Her marble epitaph still looks new. She is just a statistic to those who tend the graves and others who come to nap there. Kenya's budding socialites now know of a worthy competitor whose record might be hard to match despite having the obvious advantage of the social media age.