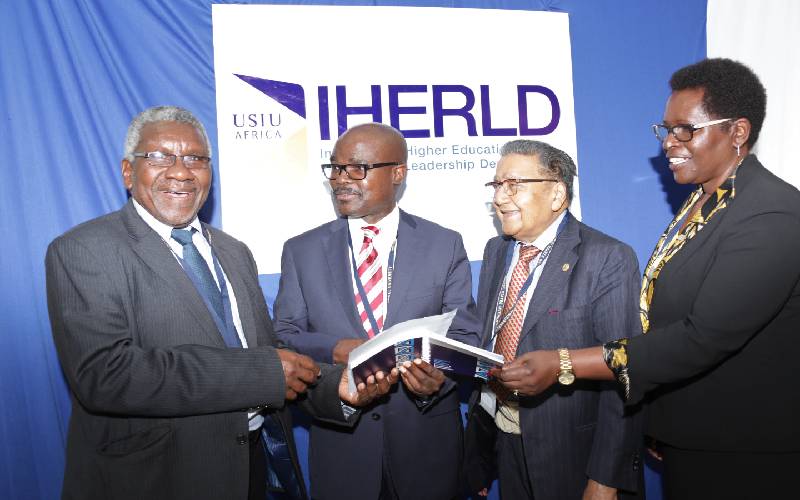 Business News
Institute of Higher Education, Research and Leadership Development will deal with challenges in higher education and improvement of their management
USIU-Africa has launched the Institute of Higher Education, Research and Leadership Development to deal with challenges in higher education such as funding and low student enrollment rates, as well as explore solutions that can improve the management of institutions of higher learning in Kenya and the World. USIU Vice Chancellor, Professor Paul Zeleza while launching the institution said that for the government to achieve growth, it must embrace these challenges and engage in dialogue with different stakeholders. "Higher education stakeholders and leaders must take the lead to bring change and transformation in universities," Zelesa said. Tertiary and Vocational Training, Permanent Secretary, Dr. Kevit Desai echoed the importance of adopting good governance in running universities.
SEE ALSO: This is a time to weep for our beloved Kenya
Dr. Desai held, "Good governance principals of accountability, transparency, and effectiveness are a major factor in improving the quality of education. These principles must be employed in the running of universities in order to improve our global rankings, increase research outputs and produce quality graduate that can compete on a global scale." IHERLD will develop a program for building capacity of policy makers and teachers involved in developing and implementing competency based curriculum to enable students deliver on their areas of study and enhance their employability skills. "Africa accounted for 1.3 percent of global research and development. Global spending on research and development has now reached US$1.7 trillion. 80 percent of which is accounted for by only 10 countries, none of them is African", read USIU-Africa's statement. According to UNESCO data, in 2013 Gross Domestic Product (GDP) on research and development was 0.5 percent of GDP in Africa compared to a world average of 1.7 percent with North America, Europe and Asia representing 2.7 percent, 1.8 percent and 1.6 percent respectively. The institute will develop a governance program for senior leadership organs of Higher Education institutes and develop functional programs for middle level managers. Vice Chancellors, Board of Trustees, Management Boards, and University Councils are its main target to ensure management of universities is prioritized towards achieving transformation.
SEE ALSO: Police brutality can come to an end if Executive acts
The IHERLD which was launched on January 30, 2019, will address issues in Higher Education that has been crippling institutions over the years locally and internationally as well as create economic and social impact directly on the more than 1,600 universities and the 55 countries in Africa that need to shape up, and institutionalize policy in Higher Education.