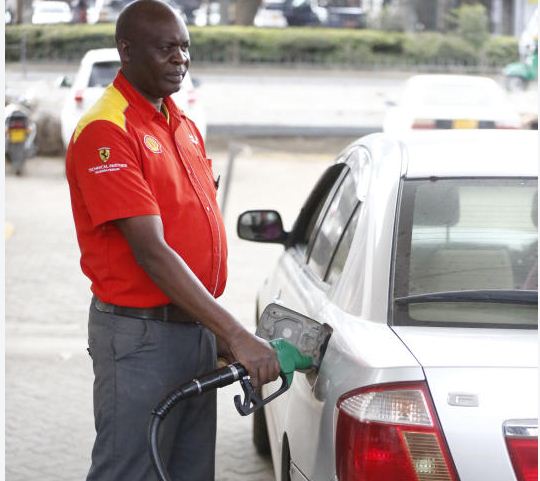 Chief executives in the private sector fear that the new taxes on petrol will increase the cost of living, tinkering with Kenya's economic recovery.
A survey by Central Bank of Kenya's Monetary Policy Committee (MPC) showed that while CEOs were generally optimistic about the economy, they thought the 16 per cent value added tax (VAT) on petrol might put upward pressure on inflation.
Inflation - the rate at which the general level of prices for goods and services rises - declined from a five-year high of 11.48 per cent in April last year to 4.28 per cent last month, which is within the CBK target range of between 2.5 and 7.5 per cent.
The new taxes on petrol fuels are expected to start in September. The new measure is part of fiscal consolidation backed by the International Monetary Fund, in which the Government seeks to reduce debt uptake and increase its tax revenues.
"According to the large banks, risks to inflation over the next 12 months include the impact of the proposed VAT on fuel as from September 2018 (and) higher fuel prices due to the rising international oil prices," reads the 2018 MPC Market Perceptions Survey.
Fuel is a major determinant of inflation, as it is used in a number of sectors, including manufacturing, transport, agriculture as well as energy.
The survey looks at the expectations of banks and non-bank private sector firms on selected economic indicators.
Respondents for the latest survey included 378 chief executive officers, 40 commercial banks, including one mortgage finance institution, 13 micro-finance banks and 326 non-bank private firms, among them 45 hotels.
The possibility of higher global oil prices would also result in moderate inflationary pressure, which would in turn push up local fuel prices, according to the CEOs.
Inflationary pressure would also come from above-normal rainfall witnessed in most parts of the country, as this would undermine crop yields and have a negative impact on food prices.
Nonetheless, business leaders were buoyant about overall inflation, private sector credit growth, exchange rate of the Shilling against the US dollar and economic growth.
Economic prospects
They were optimistic on economic prospects and improvement in the business environment over the next two months.
"There was sustained optimism on the economic growth prospects and improvement in the business environment going forward," read the survey.
Another macro-economic indicator, gross domestic product (GDP), grew at an impressive 5.7 per cent in the first three months of 2018 compared to 4.8 per cent in the same period last year.
In 2017, GDP grew at a five-year low of 4.9 per cent as the country grappled with drought, low credit and a prolonged electioneering period.
"The significant acceleration in growth was mainly attributable to improved weather conditions and a boost in business and consumer confidence after the conclusion of the elections in 2017," said the Kenya National Bureau of Statistics in its quarterly GDP report.