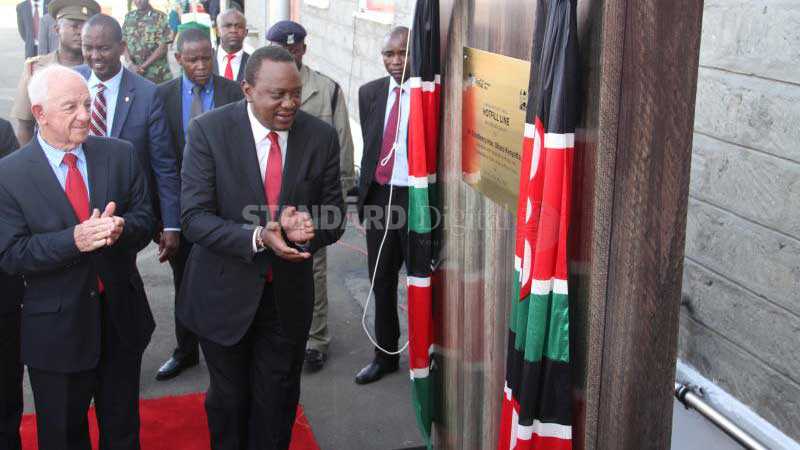 President Uhuru Kenyatta has pledged to revise tax regimes in a bid to woo more investors into the country.
Speaking at the launch of a Sh7 billion beverage manufacturing plant by Coca-Cola yesterday, the President said some taxes as well as power charges would be reduced to give manufactures a good environment for business.
Uhuru, however, did not give any time frames as he maintained that he did not want 'to raise hopes too high' as the Government was still keen to secure the country's economic position.
President Kenyatta also extended the current promotional freight charges on the Standard Gauge Railway (SGR) to December 31, 2018.
Favourable charges
The favourable charges of a flat rate of Sh35,000 for a 20-foot container from Mombasa to Embakasi depot, and Sh40,000 for the 40-foot one were to expire on July 1, 2018.
The fair charges are meant to entice manufacturers and other businesses to utilise the railway in transporting their produce for import and export.
"We believe that easing the burden on manufacturers will increase the achievement of our prosperity," said President Kenyatta.
Uhuru was accompanied to the launch of the plant in Nairobi's Embakasi by Deputy President William Ruto and Industrialisation Cabinet Secretary Aden Mohammed.
The plant utilises the latest technology in juice processing and packaging called 'hotfill' and is the only one of its kind in the region.
The technology was key when Coca-Cola, through its Minute Maid brand, started manufacturing juices with pulps (fruit chunks) to provide customers with the original taste of fruits in the beverages.
Mr Ruto said the development would propel the agenda of agro processing, value addition and manufacturing.
"This investment speaks of the relationship that the private sector and the Government can fashion to drive the economic growth of this country," said Ruto.
The facility is expected to boost earnings for 30,000 farmers and directly employ 1,500 people.