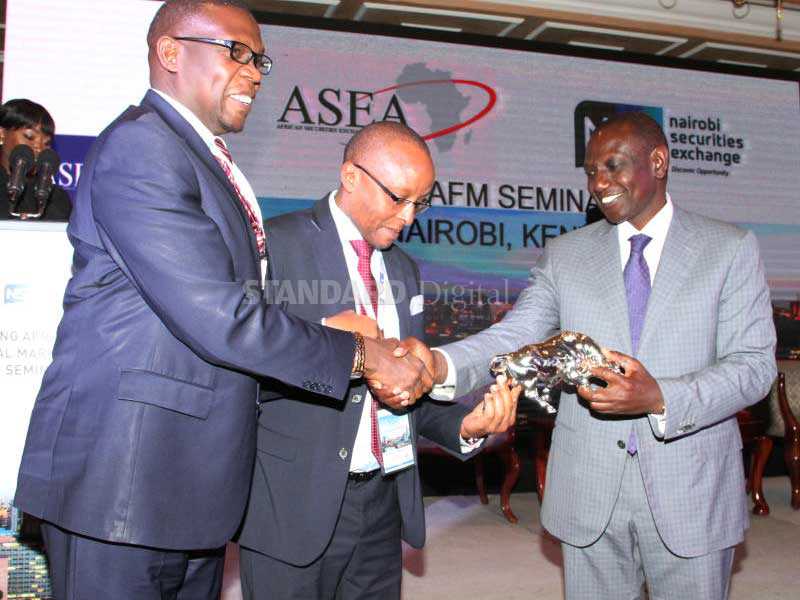 The Nairobi Securities Exchange (NSE) has been urged to tap into the private sector to get new listings instead of focusing too much on State firms.
Deputy President William Ruto said yesterday the Government's privatisation policy had brought to the market key firms such as KCB, Safaricom and KenGen, but the bourse should not overrely on such initiatives for new listings. "Our understanding is that it must not be a preserve of public companies. We need a mechanism where private companies, which are in their thousands, can join the NSE," he said.
He spoke in Nairobi during the 7th Building African Financial Markets Seminar that brought together 26 capital markets in Africa.
The DP urged NSE to take a lead in supporting more companies to list on the bourse. "Capital Markets Authority (CMA) needs to work with NSE to ensure that more private sector firms are packaged to meet the requirements of listing so that we can have a better mix of companies that are trading on our exchange." Ruto said this would reduce reliance on the banking sector by helping companies seeking expansion to raise money through the bourse and help drive down the cost of credit.
Reacting to the DP's call, NSE Chief Executive Geoffrey Odundo said the challenge was 'valid' but blamed the listing drought on the capital gains tax and global economic downturn even as he expressed optimism for more listings this year. "It is a challenge we are alert to and are keen to strengthen our incubation programme to help identify gaps in listing," he said, adding that the bourse would reach out to Government to help address this.
CMA Chief Executive Paul Muthaura said the authority had presented to National Treasury various proposals on areas such as tax, which he hoped would help private companies join the bourse. "For example, we have a proposal on tax waivers around taxes not paid in the past where companies that list on NSE commit to start paying after listing," he said.
Commenting on the privatisation programme, Ruto said there were gaps in the incubation programme that was supposed to prepare more public firms to list.