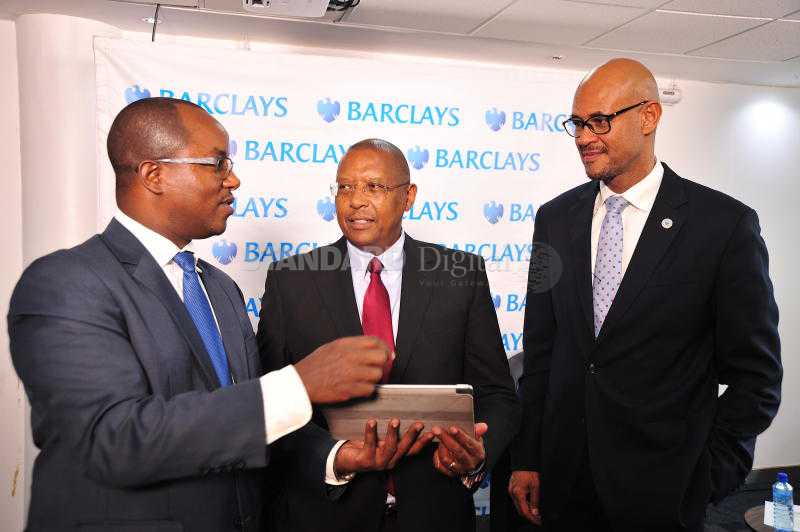 Barclays Africa Group is set to rebrand to Absa Group Ltd, the lender announced yesterday.
This will see the Barclays brand disappear from the Kenyan market in about two years following the sale of Barclays Plc's stake in the Johannesburg-based Barclays Africa Group.
The name change, which is subject to shareholder approval, is likely to fuel speculation about the lender's future in the local market in the wake of a decline in profitability and a tighter regulatory environment following the introduction of the rate cap.
The lender, the first local bank to announce its full-year results under the rate cap regime, yesterday said it posted Sh6.9 billion net profit in 2017.
This was 6.4 per cent lower than the Sh7.3 billion net profit the bank posted in 2016. The performance goes to show banks are still struggling to figure a way to make money outside interest on loans following the coming into force of the legislation capping interest rates at four percentage points above the Central Bank Rate (CBR), presently standing at 10 per cent.
Cost-cutting measures
The law has limited the ability of banks to levy huge margins on their books as it means they can only charge interest on loans at a maximum of 14 per cent.
The lender was expected to rally non-interest income having acquired First Assurance in 2016.
Its non-interest income, however, fell by almost Sh1 billion from Sh9.3 billion in 2016 to Sh8.4 billion last year.
"Focus on non-interest income has been key to our business strategy. We see the insurance business bringing in Sh500 million, the fixed income trading bringing in Sh900 million and the stocks brokerage business introducing new products like the new Gold ETF," said Barclays Kenya Chief Executive Jeremy Awori at a press briefing in Nairobi.
The bank also resorted to cost-cutting measures to cope with the reduced revenues which saw its interests expenses go down to Sh5.3 billion from Sh5.7 billion in 2016.
On the flipside, the lender's move to cut staff numbers by 12 per cent through the voluntary early retirement programme saw its staff costs grow from Sh9.7 billion to Sh10.1 billion during the period under review.
It also cut down its branch network from 101 to 89, but Mr Awori said that the restructuring was mainly concentrated in Nairobi where it had several branches located within metres of each other.
The bank also focused on getting cheap money from transactional accounts.