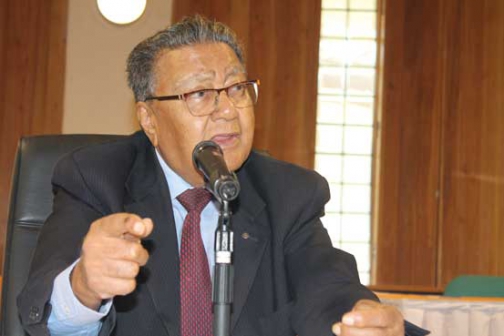 Industrialist Dr Manu Chandaria has said industrial revolution will remain a mirage in Kenya until such a time that the country builds a strong base for science and technology.
"We shall forever trail the Asian tiger countries with whom we were at par at independence so long as we remain fascinated with the top rather than the bottom of products, "remarked Dr Chandaria when he addressed participants at the third multi sectoral Public Private Approach (MUSPPA) hosted by the Centre for Mathematics, Science and Technology Education in Africa (CEMASTEA).
"My own Mabati rolling mills and leading local industries such as Bamburi Cement, Bidco and others are the top, but we have nothing to show at the base where thinkers in science and engineering are required," lamented Dr Chandaria.
The Industrialist described as unfortunate the amount of imports currently flowing into the country as the youth who need training to run industries remain idle due to ensuing joblessness. He said it was a pity that 54 years after independence, materials that could be produced locally were still being imported
"This trend can change only with commitment towards science and the realization that young minds left idle result in wasted lives," he cautioned.
Read More
Dr Chandaria said a quantum jump in Science, Technology, Engineering and Mathematics (STEM) subjects in primary and secondary school was necessary to harness the untapped potential in Kenyan youth.
He urged delegates who included representatives from Vision 2030 delivery secretariat, Kenya Secondary School Heads Association (KESSHA), Global Peace Foundation (GPF), IBM East Africa, the M-PESA foundation and the Embassy of the United States among others to seek opportunity to contribute to improving the base of STEM subjects with a view to connecting over four million young people to industries and innovation.
The Kenya Country Director of Global Peace Foundation Mr Daniel Juma Omondi emphasized the importance of character and creativity in the education system because it inculcates values and discipline in students, hence stirring innovation.
"To that end, we came up spaces in high schools for students to cultivate business ideas in a program known as Leap Hubs," said Mr Juma.
He said plans were under way to have the Leap Hubs now present in 24 schools across the country in all the 192 STEM schools.
The Director of CEMASTEA Mr Stephen Njoroge invited private and public organizations to team up with the centre to build synergy for the sake of the Kenyan child.
"What this country needs are not just grade As in examination results, but people with 21st century skills able to think critically, innovatively and creatively to solve societal problems," said Mr Njoroge.
"The overarching question is how we can put science and technology in the hands of young people other than dwelling on content acquisition," he said
The Director of Kenya Secondary Schools Association (KESSHA) Mr Kahi Indimuli and the Assistant Director-Enablers Vision 2030 Mr Idi Masoud called for the allocation of more resources into efforts to promote science and engineering in schools and colleges.