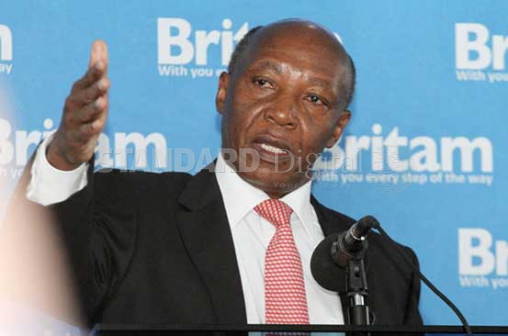 Britam is planning a Sh3 billion serviced apartment project before the end of year with an increased focus to diversify income streams.
The firm revealed its development plans after announcing the half year results yesterday, where net profits nearly tripled to Sh1.77 billion, driven by a sharp rise in investment income.
Unrealised losses on the fair value of investments in the stock market however eroded the profitability. Group Managing Director Benson Wairegi said his firm expects to break ground for the 162-unit development after receiving the necessary regulatory approvals before the end of the year.
"We are confident that we will be on the ground before January," said Mr Wairegi. It will be the second major real estate project for the firm after completion and occupation of the Sh7 billion-worth Britam Tower, also expected within the third quarter.
Mr Wairegi adds that the firm will develop the planned apartments to the five-star hotel standards, as it eyes travellers who are seeking a different type of accommodation. A market study done by the firm had revealed shortage of top quality institution-backed apartments in Nairobi.
Juba business
Rental yields are significantly higher for such property while it offers a long term stream of revenues than could be generated in developing to sell. The two projects are expected to help the firm diversify from the stock market whose returns are not predictable.
A subsidiary called Britam Properties was incorporated last year to develop and manage the real estate projects as part of its diversification strategy meant to reduce portfolio risk and exposure in the equities market.
Returns from other assets helped negate Britam's performance for January to June period that was boosted by a 38 per cent rise in investment income.
Among the seven regional subsidiaries, South Sudan performed the best, defying the political unrest in the country to return Sh110 million in profits. Mr Wairegi expects that the profitability of the Juba-based business will be sustained, even though his company was "closely monitoring" the situation.
All subsidiaries were profitable, he added. Britam has for five years taken on an aggressive regional expansion that involved green field operations and acquisitions, including the buyout of Real Insurance that was completed in June.
Wairegi says the next five-year phase would involve consolidation of the businesses rather than expansion. "The business continues to show resilience in operations despite challenges witnessed in the industry. The fundamentals of the company remain strong while the agency network and digitisation remain key pillars of growth going forward," said the Britam boss.
Britam said it acquired the 1 per cent stake of Real Insurance that was held by the Kenya Farmers Association.