The motorcycle (boda boda) business is generating an estimated Sh400 million daily according to data from the Motorcycle Assembly Association of Kenya.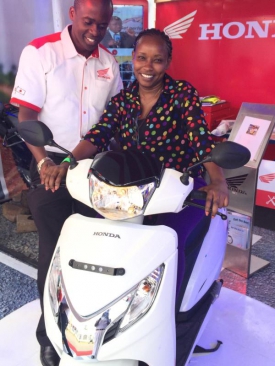 The sector is fast evolving into a money spinner and forking out billions of shillings to the taxman in a year. But they can do better with proper framework and better business skills, players say.
Motorcycle Assemblers Association of Kenya (MAAK) chairman Isaac Kalua notes that in 2014 boda boda operators and other motorcyclists contributed close to Sh2.2 billion to the exchequer. This was beside the fact that close to 100,000 bikes may be out of road due to various accidents and breakage, added Dr Kalua. Through the assembly plants and distribution network, the industry also offers direct employment to over 100,000 Kenyans.
He said the motorcycle taxi industry, commonly known as 'boda boda', has become an important player to the country's economy as well as a source of employment.
Of the close to 500,000 motor bikes on Kenyan roads, over 99 percent are boda-boda. About 14.4 million people are riding them every day. The industry earns on average about Sh400 million in a day. This is easily Sh146 billion annually.
Read More
However, a number of challenges have made the industry not operate to the optimum. Uncertain policies contributed to a decrease in the volume of motor cycles in 2014. "These policies include uncertain Duty Remission Scheme and imposition of VAT on motor cycle sales," Dr Kalua who doubles up as the chairman of Honda Motorcycle Kenya Ltd, said.The depreciation of the local currency has also hit the industry hard as imports of bikes have become expensive. "But still companies are not passing on these prices to the customers despite having other cost pressures," said Dr Kalua.
The problem of untrained riders has been a stubborn stain on the boda-boda business. Due to this, the number of accidents that involve motor cycles are increasing creating bad publicity for the industry. "MAAK is now working closely with National Transport and Safety Authority Act (NTSA) and other Government agencies to increase safety awareness and other initiatives to make motor cycle riding a safer and viable economic option," offered Dr Kalua.
He said the association is working with other stakeholders including Kenya Association of Manufacturers (KAM) to increase localisation in Kenya and has developed 10 years road map through which 35 per cent parts of the motorcycles will be made in Kenya. Currently, all parts are imported.
The association brings together 21 motorcycle companies to serve as a collective voice to its members and to safeguard justified rights of motorcycle assemblers as well as promote safe and lawful motorcycle culture in Kenya in order to play its part in economic development through increase employment and revenue collection.
Data from the Kenya National Bureau of Statistics shows that 44,154 bikes were registered in the first three months of this year, up from 25,277 in the same period a year earlier, representing a 74.6 per cent rise. This is a sharp reversal from the fall in unit sales that started in September 2013 and culminated in a 11.1 per cent drop to 111,124 bikes last year. Dealers attributed last year's drop to government's introduction of a 16 per cent tax on the two-wheelers, which effectively increased their prices.
NTSA has introduced rules governing the boda boda industry. The rules include boda boda operators having insurance covers, observing all traffic rules, limiting the amount of cargo, using protective gear like helmets and operators belonging to saccos. Some of the motor cycle assemblers include Honda Motorcycles Kenya Ltd (Honda), Car & General Trading Ltd (TVS), Ryce East Africa Ltd (Hero) and Toyota Kenya Ltd (Yamaha).