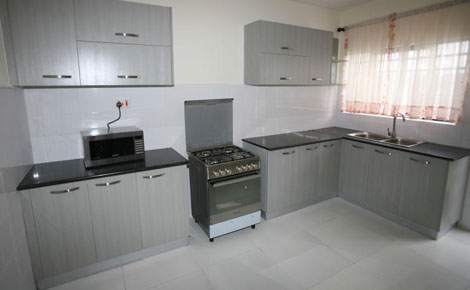 After raising enough funds, Michael Ong'any embarked on plans to build his dream home upcountry. He drove to an architectural firm near his office and bought an architectural building plan of a three-bedroom house with a master ensuite. Excitedly, he took the plan home, only for his wife to give him an unimpressed look back. She preferred that the other bedrooms be as far away as possible from the master bedroom, which was not the case on this particular floor plan. But instead, he scoffed at the wife's idea. It took the intervention of a visiting architect friend for him to realise his fault.
SEE ALSO: Agency stops construction of buildings in city
"You don't want someone from the adjacent room shouting to you a question in the middle of the night because he feels that you are not that far away as a roommate, do you?" he told Ong'any. A floor plan is a simple line drawing showing rooms as if seen from above. Walls, doorways, and windows are often drawn to scale. Floor plans show the size and perimeter of a new residence as well as all interior living spaces. Like Ong'any, many Kenyans have taken to buying ready-made building plans even from the street. Some, points out Ronald Omyonga, an architect, prefer their houses to be like so and so's, and do not take into consideration their lifestyle and special needs when choosing floor plans. A floor plan determines privacy, comfort and functionality in a home. Below are some of the key things you should consider when choosing a floor plan for your house:
Kitchen
SEE ALSO: Tenants to vacate after building collapse
Today's kitchen is hailed as the social epicentre of a modern home. It plays host to activities from quick morning family breakfasts to a meeting point for those private never-ending women conversations. How a kitchen should function is an extremely personal matter, and a floor plan needs to be customised to reflect that. A kitchen might have the most beautiful cabinets, technologically advanced appliances and high-end finishes, but if the layout doesn't meet the needs of your lifestyle, the rest doesn't matter. You should consider your cooking style to determine the appliances you are going to install in the kitchen. You also need to consider whether or not you want people in the kitchen when cooking or whether you would prefer them (guests) looking over while you do the cooking. The two elements determine the floor space size and whether or not to include an extra counter space to allow lounging in the kitchen with extra high bar stools.
SEE ALSO: Builders read mischief in new regulations gazetted by State
One of the most popular designs to make this possible and that has stood the test of time and is still as relevant today is the Kitchen Peninsula design. A metaphorical way of describing a freestanding cabinet surrounded by a 'sea' of flooring, Kitchen Peninsula is whereby a cabinet or series of cabinets are only connected to the main body of the kitchen on one side. The series of cabinets replace the solid walls, creating storage space while at the same time defining the kitchen border. When it comes to floor planning of the kitchen, homeowners tend to be seduced by beautiful fixtures at the expense of functionality. "It is important to design the room so you can fix a meal easily. The sink, stove and refrigerator should be in close proximity and in a triangular form so as to minimise movements while cooking and avoid crisscrossing the kitchen," says Fred Muchiri, interior designer at Makai Creations and Interiors. At the same time, kitchens should be large enough - at least five feet between the stove and counters - to accommodate two cooks. The sink should be surrounded by a 24-inch-wide landing area to one side and at least an 18-inch-wide landing area on the other side. When designing cabinets, try and figure out what each cabinet would store so as to design their appropriate sizes and shapes to avoid ending up with non-functional cabinets. Also plan where trash receptacle should go. This is normally overlooked during planning. "You can choose to have the general lighting and lighting below the kitchen cabinets that will illuminate the working table. Lighting inside the cabinets is also ideal for functionality," says Muchiri.
Living rooms
Rooms with huge ceilings are not ideal if you are to encourage a welcoming feel to your home. Keeping ceilings low fosters intimacy and brings warmth. For most Kenyan families, the living room's true focal point is not the fireplace nor the outside view but the television. So the room's layout should begin with the TV placement. One should plan how to avoid glare on the TV screen, which distorts view without having to close curtains and thus block the outside view. To ensure excellent traffic flow and proper use of the floor space, one should decide what furniture they will use before choosing the layout of the room. Window size and placement are also fundamental considerations. "You can ensure traffic floor by ensuring there is a clear corridor running freely through the living room to other rooms in the house," says Muchiri. To ensure privacy within a home and that your home is not on display every time the front door is opened, you may opt for a formal living room adjacent to the front door. This will allow guests to immediately sit and feel comfortable while leaving the rest of your house private.
Bedrooms
One of the most exciting private places to design is the master bedroom. One of the main things to have in mind when thinking about space sequencing for your master bedroom floor plan is how important it is for one person to be able to use the bathroom and get dressed (or undressed) without disturbing the other person. "If there is ample space, one of the best inclusions in your master bedroom should be a walk-in closet. Even if it means sacrificing some space in the main part of the bedroom, having a walk-in closet helps keep away those inevitable piles of clothes and saves the bedroom from clutter," says Muchiri. To ensure less disruption, you should have an entrance leading to a corridor with the bath on one side and a walk-in closet on the other. At the corridor's end, install another door that opens to the main bedroom area. Being able to close off both ends of this corridor allows one to bathe and dress without disturbing a sleeping partner. "A master bedroom with curved vaulted ceilings and cross tie beams retains openness and gives it a more intimate atmosphere," says Omyonga. Master bedrooms should also be located far from main activity areas in the house and guest rooms should not be placed above or below the master ensuite as is the norm in multi-level floor plan homes. If it is inevitable to have the master bedroom next to high activity areas, building closets along walls adjoining walls of high activity areas helps to minimise noise. This can also be applied to other bedrooms. Most families who have young children like to have the private spaces of the house – bedrooms and bathrooms grouped in one area of the house, while families with teenagers and young adults prefer to have bedrooms separated from each other.
Special considerations
Physically challenged and small children need extra space to manoeuvre and extra wide hallways. "Muslims have extra rooms in their floor plans that act as their prayer rooms. These rooms have to face North to Mecca, therefore their position in the entire floor plan has to be taken into consideration," says Omyonga. He adds: "Women and men rooms tend not to interact as much therefore men spaces such as the living room and the kitchen associated with women should be distanced in the floor plan."
— [email protected]