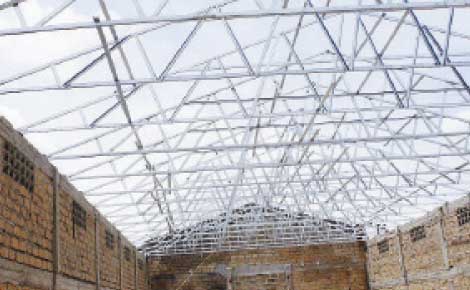 Developers are realising that they gain more by using this material than other conventional roofing materials, and it is an avenue you can explore when you are building your home, writes JAMES WANZALA
With prices of roofing materials skyrocketing every day, real estate and industrial developers are looking for cheaper roofing materials to save on the cost of construction. One such material is light gauge steel truss, which is quickly replacing conventional timber.
SEE ALSO: Eight in court over building approvals
Trusses are used in a broad range of buildings, mainly where there is a requirement for very long spans such as in airport terminals, aircraft hangers, sports stadia roofs, auditoriums, residential houses, churches, schools and other leisure buildings. Demand for the product for residential and other buildings has been growing exponentially in Kenya. Possible reasons could be the increase in timber prices or increased awareness of the advantages of light steel trusses due to the development of the market for light steel frame building systems. A local company, Safal Mitek, formed through a joint venture between Mitek Industries (SA) and Mabati Rolling Mills, is currently the leading manufacturer of light gauge steel trusses. Other companies dealing in the product are Athi River Steel Plant, Space & Style and Trusstech Engineering. Safal Mitek's steel truss is made from steel coils coated with a protective alloy of aluminium that forms a protective barrier against corrosion. It also uses zinc for safeguarding the edges and scratches and silicon as a binding agent.
SEE ALSO: 9,000 to trade from 5 new city markets
During installation or roofing, material is cut to size then delivered to site in neat packs. Truss members are screw-fastened using self-tapping screws and a screw gun.
Ready trusses
Assembled trusses are stacked together before lifting them onto the roof. Ready trusses are then lifted up and joined together to form a roof. The material is stackable in such a way that large numbers of components can be stacked into relatively small, light bundles. Complete roofs can be transported on a single truck, cutting down transport costs. Ultra span competes even better against other conventional timber truss solutions.
SEE ALSO: Builders read mischief in new regulations gazetted by State
The material reduces cost of roofing by 30 per cent (when material, labour, wastage and time is considered). "We are not able to compare Ultraspan and timber directly using cost per metre because an Ultraspan truss is made up of different sections and sizes and the assembly is totally different from timber as this is a pre-engineered product," says Phyllis Temet, the Sales Engineer at Safal Mitek. "When space allows, trusses are assembled into sheathed roof sections that are hoisted into the final position by a crane," says Premkumar Murthy, Sales Manager at Safal Mitek. "Our steel framed systems provide superior strength, better energy efficiency, less maintenance, a non-combustible material, and the use of a renewable green product in your home's main frame support system," says Murthy. According to Wilfred Mwakai Kiute, a civil and structural engineer, steel truss makes the roof truly levelled and properly aligned with uniform slopes. "Levels and alignments are easy to achieve because the trusses are well fabricated and its not heavy but easier to load and not easily distorted too," says Kiute.
Green choice
Building with steel truss is a green choice; they make strong and beautiful homes and buildings, while protecting the environment. Murthy says that steel recycling programmes reduce solid waste. Murthy argues that when you frame a house with wood, you use approximately 40 trees. When you frame a house with steel, you use approximately 11 recycled cars. "It is lightweight and compact, thus reduces transportation costs greatly. This means less manpower is required compared to timber," adds Temet. Her views are supported by Maurice Akech, General Manager Research, Business Development an Capacity Building at the National Construction Authority.
Prefabricated
"Due to its ability to be prefabricated in the factory or off-site, the speed and quality of construction is greatly enhanced. The steel is faster to fabricate and the only site activity is the assembly of various steel parts, which is done quickly through bolting. There is also the aspect of less-skilled labour being used on site, making it cost-effective. This ensures that homeowners can occupy their new homes early," he says. He adds that for commercial developers, the return on investments can be achieved much earlier compared to timber construction, which will take a longer duration to construct. Safal Mitek requests interested clients to send architectural drawings for the building to the company after which, their engineers will design the roof structure free of charge to establish the quantity of material required and thereafter provide a quotation. "There is no deterioration of quality in long exposure to weather, therefore no maintenance costs," says Kiute, who adds that light gauge steel trusses do not require treatment and grading unlike in timber. It can also be used for any type of roof, with all kinds of roof covers like iron sheets, clay/concrete tiles, and stone coated tiles among others. "Steel has higher strength to weight ratio compared to timber. This means that steel can span over large distances using smaller quantity. The impact of weight on the design of heavy foundation for the building is reduced, hence saving on cost of the foundation. The fewer quantities used also result in plenty of space in the roof void," says Akech. "Light steel gauge technology is suited for complex roofs. There is also no need for large storage space on site as the various pieces are made on demand and are brought ready-made and get fixed into the final position. This eliminates the need for investing in heavy security and pilferage of materials from the site," says Akech.
Strength
Manufacturers use high strength steel sheet, with coated material thicknesses. Different profiles are produced by roll forming the sheet into Z, C or U-shaped sections, or other more complex shapes. These profiles are joined using rivets, screws or bolts. Assembling steels into trusses could take place in a factory, or the sections could be bundled, or 'flat packed', transported to be assembled on site – the latter option is often selected for remote building sites, as it reduces the cost of transport. The cold-formed sections are rolled into long standard lengths, cut to size and assembled in a jig, similar to the timber truss process. Alternatively, the trusses could be produced on specialised roll-forming.