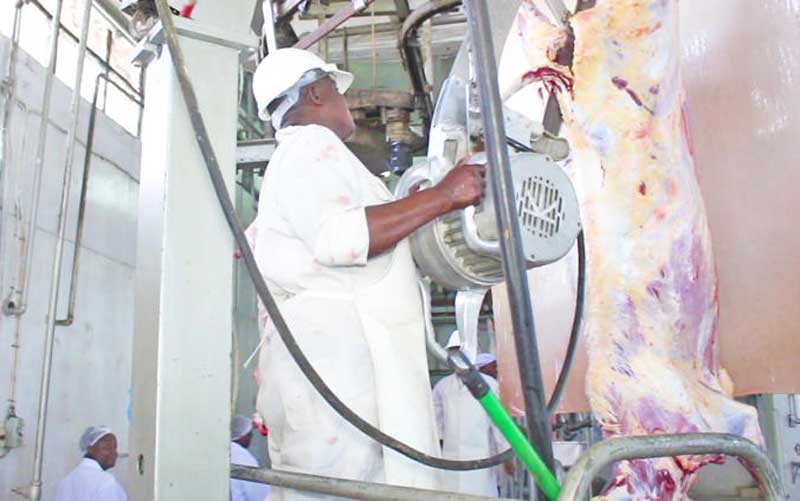 In its 70-year history, Kenya Meat Commission (KMC) has made a profit only once - sometimes in the 1950s.
It has collapsed twice. Facing its third collapse in 2009, KMC largely blamed the Ministry of Defence, one of its top customers, for its woes. This was just three years after its colourful reopening in 2006, having been dormant for 15 years.
Then Managing Commissioner Vincent Ngurare would tell The Standard that the Department of Defence was also one of its top debtors, owing millions. He added that KMC was broke and in need of an urgent government bailout before creditors descended to attach its property.
"Most of our leading customers are government institutions like the Department of Defence and public universities whose debts run into millions of shillings in unpaid for supplies," he said in 2009.
And now, the government has placed Kenya's premier abattoir in the hands of the military in a move meant to turn the debt-ridden State corporation around.
The plan to transfer the assets to Kenya Defence Forces started last October when President Uhuru Kenyatta appointed former Vice Chief of Defence Forces Lieutenant General (rtd) Joseph Kasaon as board chair of KMC in a gazette notice.
The general had resigned in 2018 and was once tipped to be in the running for Commander of Defence Forces.
Many then saw it as the return of old guard, which President Kenyatta has done over the years. However, it sort of heralded the takeover of KMC by the Armed Forces.
Early this year, Agriculture Cabinet Secretary Peter Munya visited the KMC alongside Gen Kasaon, promising to return in August to check progress of an ongoing modernisation of the commission that would take Sh900 million.
He said KMC had also been allocated money to settle debts, rationalise staff and pay farmers who supplied livestock since 2016.
But in the new development, the Ministry of Defence will move into the Athi River-based facility in a week's time to take control of the outfit that has spent the bulk of its years as a technically insolvent bottomless pit draining taxpayers' money, and as one of the country's finest theatres for looting.
This is amid uncertainty on State financial support which sustains it despite the government's initial investment of Sh1.9 billion after reopening.
By the end of 2017, government loans stood at Sh300 million spanning 2009-2011 and had accrued an interest of Sh34.8 million.
For a facility with a capacity of slaughtering 1,000 head of cattle per day, it now only manages 200 a week. Its recent activities included disposing of trees from its locations for as low as Sh600 a tree.
According to the 2017 Auditor General's report, KMC's liabilities outweighed its assets, resulting in a negative working capital of Sh33.3 million, which rendered it technically insolvent. "Its continued existence is based upon an assumption of receiving financial support from the government and the goodwill of its creditors," said then Auditor General Edward Ouko.
"This material uncertainty casts significant doubt on the ability of the commission to continue as a going concern," added Ouko.
Over the years, to keep it alive, the government has argued that one of the purposes for its formation was as a social obligation to help pastoralist communities as opposed to being a commercial venture.
It was to act as a strategic drought management outfit as well as the buyer of last resort. "It meant that the institution wasn't operating strictly on a commercial basis," said former Finance minister Chris Obure in 2002.
Obure was in Parliament seeking authorisation on Sessional paper no 2 of 2002 that would pave the way for revival of KMC, then under receivership for 15 years. As of 2017, domestic debtors owed KMC Sh347.7 million. It also lost its export markets, which during its peak, included the Middle East countries such as Saudi Arabia, regionally and in Africa from north to south.
As of 2017, its inventory stood at Sh61 million with meat and meat products accounting for the bulk at Sh16 million followed by live animals with beef leading this category (cows Sh7.3 million and bulls Sh5.6 million). Even after a major facelift in 1995, it couldn't operate for years owing to a defaulted $3.3 million loan from the Mitsubishi Corporation tied to the machinery.
With Parliament's approval, KMC would be released from the chattel mortgage after Mitsubishi advanced it a loan in 1992 to buy equipment. A chattel mortgage refers to a loan arrangement where movable property acts a security for a loan.
This would see the Mitsubishi loan written off by the government. KMC's initial intent was to promote Kenya's meat industry through purchase and slaughter of livestock and marketing of livestock products.
No longer "a cut above the best" as per its motto, KMC was closed in 1987 and re-opened in 1989 only to close again in 1992. Performance had worsened based on a variety of factors, including the loss of European Union market for fresh meat after a foot and mouth disease outbreak that caused Kenya to lose its disease free status.
KMC's dominance had also been upended following The Meat Control Act of 1975 that liberalised the meat industry. Local competition did not spare it as abattoirs and butcheries across the country cropped up, including Dagoretti, Dandora, and Kiamaiko, which are currently market leaders.
"As a result it was adversely affected," said Obure. Other factors included poor management and high turnover in the top ranks and outdated equipment and machinery. When it was closed in 1992 for a "major" rehabilitation, the government advanced a Sh429 million loan.
Rehabilitation was completed in 1995 but even after a test run it never took off. "Since then, the key issue has been the question of KMC's viability in view of the marketing arrangements which were tied to the loan repayment to Mitsubishi Corporation," said Obure.
It had been placed under receivership over debt to the government and other institutions, including Sh1.3 billion to National Bank of Kenya as of June 30, 2001 in respect of a secured overdraft facility, which sent it into receivership.
It owed another Sh1.3 billion in irredeemable loans disbursed between 1959-1982 and Sh945 million loan between 1992 and 1995, as well as interests from loans amounting to Sh310 million. As of 2001, it owed Mitsubishi Sh372 million due to an agreement signed in 1992 for the rehabilitation of the Athi River facility.
The loan was lent to KMC at an interest rate of 2 per cent, plus legal fee of 2 per cent, and was repayable in 60 monthly instalments starting March 1997. It also owed Sh134 million to the Kenya Revenue Authority, excluding penalties.
Another Sh150 million was owed to trade creditors, personnel related expenses, council rates, and factory rehabilitation costs, as well as receivership costs. The government's position was for it to be operated by the private sector or a strategic investor, describing it as an important asset that should be put into production "as soon as possible".
"The transfer would see it sold as one operational unit through a receivership process and used "specifically for the initial intention". Making a nostalgic case in Hansard records reviewed by the Sunday Standard, Obure said livestock farmers were on a roll including receiving an yearly bonus in the early years.
"They would wait over a cup of tea and within two or three hours they would be given their cheques," he said. Obure said Kenya's export quota of chilled meat to Europe had been given to Zambia. "One of the first official acts I had to do as Agriculture minister was to sign and consent to Zimbabwe using our quota in the European market," he said.
"That is how unfortunate we've become."
MPs argued that parliament would be used to "sanitise" the KMC balance sheet only for nothing to happen later.
Holding grounds had been since privatised or handed over to ordinary citizens and the access road to Athi River was poor. "In fact, even when it is opened tomorrow it could never be used unless you bring the animals by helicopter into the factory," said former President Mwai Kibaki.
Its cash stood at Sh118 million, held in 14 bank accounts including M-pesa accounts and cash balances held in three depots. Ouko, however, noted that bank reconciliation statements for nine bank accounts were not provided for the audit review. Ouko added that the bank reconciliation statement provided for the audit reflected Sh187 million resulting in an unreconciled and unexplained difference of Sh69 million.
Ouko wondered how it even stayed alive. Due to poor record keeping, he couldn't even confirm and verify the sums of money received or banked, and income records maintained in the year under review.
He added that most of the records on the ownership and value of KMC's over Sh1.9 billion assets could not be confirmed.
Some of its prime land was also irregularly sold.