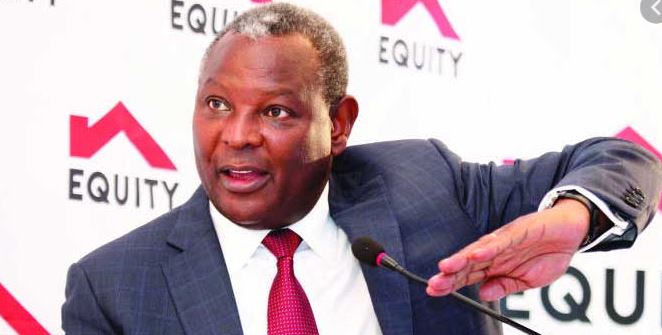 NAIROBI, KENYA: The Equity Group Holdings has inked a better deal with a Congolese bank reducing consideration from the previous Sh11.2 billion (USD 105m) to Sh10.1 billion (USD 95 million).
The group on Tuesday said the deal has met all the necessary approvals and the acquisition was completed on August 7.
Following the completion of the acquisition, Equity now owns 66.53 per cent of the issued share capital of Banque Commerciale du Congo (BCDC) making the lender it's subsidiary.
On November 19 last year, Equity published a notice of the entry into a share purchase agreement with George Arthur Forrest for the acquisition of 66.53 per cent of shares in BCDC with a view to eventually combine the business of BCDC with that of its existing banking subsidiary in the Democratic Republic of Congo.
The announcement comes barely two months after Equity's plan to acquire banking businesses owned by Atlas Mara in Rwanda, Tanzania, Zambia, and Mozambique aborted.
Read More
Equity ended the negotiations to focus on its customers currently faced with uncertainties resulting from the coronavirus pandemic.
Dr. James Mwangi, Managing Director of Equity Group Holdings, said the decision to pull out was in part informed by the unfolding Covid19 global pandemic.
"After careful consideration, EGH and ATMA have mutually agreed to discontinue discussions on the transaction for the foreseeable future," he said.
"We have deployed a defensive and offensive mechanism through loan accommodations and rescheduling or restructuring of up to 25 per cent of the total loan book for periods of up to 36 months. This will enable our customers to go through the prevailing turbulence, while at the same time preserving cash to shore up the financial revival and growth of their businesses post the COVID-19 crisis."