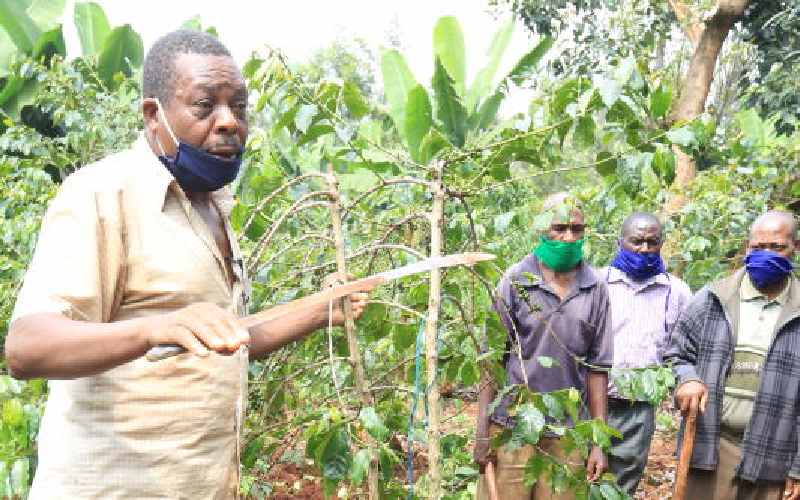 Coffee farmers in Kiambu, Githunguru and Komothai have uprooted their coffee trees to protest poor earnings.
The farmers complained that Sh14 per kilo was not enough reward for the hard work they put in tending to their crop, adding that even the meagre payments are delayed for too long yet they have bills to pay.
They argued that the cost of producing one kilo of coffee was approximately Sh35, hence the Sh14 pay even after processing was an insult to their sweat.
Some of them have planted vegetables, avocados and also embraced dairy farming.
The farmers said they were disillusioned by cooperative society officials and brokers who they accused of taking advantage of poor systems to rip them off.
They also blamed county officials in charge of overseeing cooperatives, saying they have failed in their job.
The farmers claim they no longer receive fertilisers or knapsack sprayers, and the field officers who patrolled the vast plantations stopped doing so. Securing loans to improve their farms has also become impossible, spelling doom for the once lucrative venture.
According to the farmers, production has gone down from 14 million kilos to 1.5 million per year, an indication of the hard times the coffee industry is undergoing.
Ndichu Muturi, a farmer, said Komothai was once a giant society but was now on its knees.
"If the government does not rescue us from this misery, we are going to uproot the bushes for other profitable crops," he said.
Muturi added that they elected 13 representatives to the society, but they have failed to look after their welfare.
"The people who sell coffee sell at good price, but what gets to our pockets is peanuts. All our sweat ends up in other people's pockets; they don't care at all about our plight."
He wondered what happened to the good old days when farmers would receive wheelbarrows, pruning saws, fertilisers, and hefty perks.
"We want to be allowed to process our coffee now. We are capable but some people opposed to this will go to any lengths to frustrate our empowerment so that they can benefit as individuals," Ndichu said.
The coffee mills are all neglected, under performing and dens of conspiracy for theft, according to the farmers.
"We get 20 per cent cut from our pay so that the money is used to pay coffee mills workers among other bills. According to records, the workers have arrears of over 10 months or even one year," said Njenga Muchiri, another farmer.
A spot check by The Standard confirmed the same. Some farmers are using the trees to burn charcoal while others have left them unattended for months.
Kaboci Gacura, 70, a retired civil servant, said they have been reduced to paupers.
"I was educated by my parents using coffee proceeds. I also educated all my children with coffee proceeds up to university level, but now feeding, clothing or even securing proper meals for myself is difficult and I have acres of coffee plantations," Kaboci said.