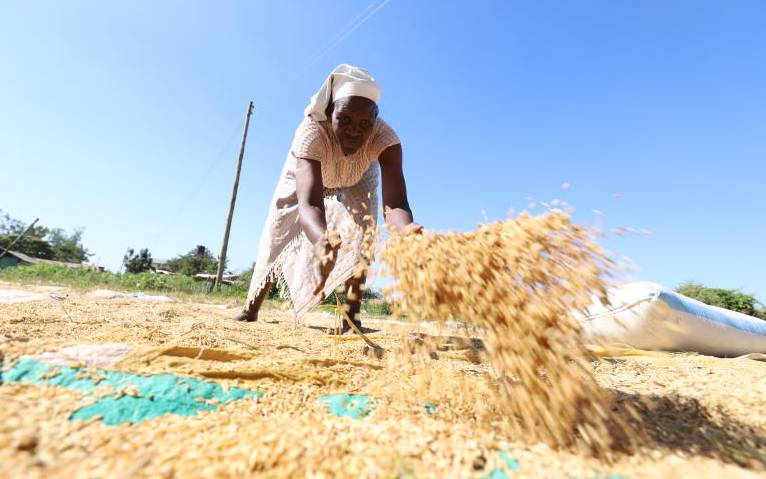 As Monica Awino spreads her rice in the sun to dry at her Nyang'ande home in Nyando, she expects a windfall.
For over two decades, Ms Awino toiled and prayed for a better harvest in vain.
However, the past two seasons have seen her prayers shift from better harvest to reliable market, courtesy of a new technology dubbed system for rice intensification (SRI).
The system, borrowed from Mwea Irrigation Scheme, involves intensive utilisation of water, where farmers have equal access to the limited commodity for a particular number of days, then they give it to other farmers, and the cycle continues.
Read More
The system also promotes mechanisation, use of certified seeds and intensive sensitisation. This has seen the likes of Awino embrace team work right from land preparation, planting, harvesting and marketing.
Three plots away from Awino's is Jack Otange's land. He has been in the trade for 10 years.
The 30-year-old farmer has three quarters of an acre. Last week he harvested 32 bags of paddy rice, a big improvement from the 10 bags he used to get.
Hybrid seed
Just like Awino, he planted a hybrid seed, Arize 644, which has become the scheme's preferred variety in the recent past.
Austin Abuto, whose 1.1 acres earned him 50 bags, said the development has revived people's hopes in rice farming.
"I first ventured into the trade in 1992, but I pulled out after it proved not viable. But five years ago, with news of improved farming techniques, I got back to the farm and I do not regret."
However, Mr Abuto is worried about the low prices coming with the bumper harvest.
In 2015, a group of farmers from the scheme visited Mwea Irrigation Scheme in Kirinyaga County for a learning tour, and this has changed their farming for the better.
"We realised that apart from lack of uniformity, our people had not embraced the spirit of mechanisation due to the small size of parcels here," said Paul Omanga, who was in the tour team.
Dr Omanga later mobilised farmers through Nyabon, a technical advisory team implementing farm mechanisation at the scheme, organised them into four blocks, making it easy to pool resources and seek the assistance of other players.
"Convincing farmers to come together was not an easy task, and the first season saw only 50 acres of land put into use. In the second season, there were 25 more acres, and today the entire scheme, lying on 100 acres, is utilised," said Omanga.
This has pushed up the harvest, with farmers like Awino lacking space in their houses to store the produce. They have come together to construct a makeshift store at Nyang'ande market.
Rice production in Nyanza is set to increase further after the Government released Sh100 million to revamp Kibos rice milling plant.
Yesterday, The Standard learnt that the Lake Basin Development Authority (LBDA), which manages the mill, had received the money from the Treasury.
Annual production
The plant will now produce up to 24,000 tonnes of rice a year, an improvement on the initial annual production of less than 10,000 tonnes.
Ken Obura, the Chief Administrative Secretary for EAC, urged farmers to grow more rice because of the revitalised and expanded operations.
He spoke just a day after the new LBDA managing director, Raymond Omollo, took over from Evans Atera.