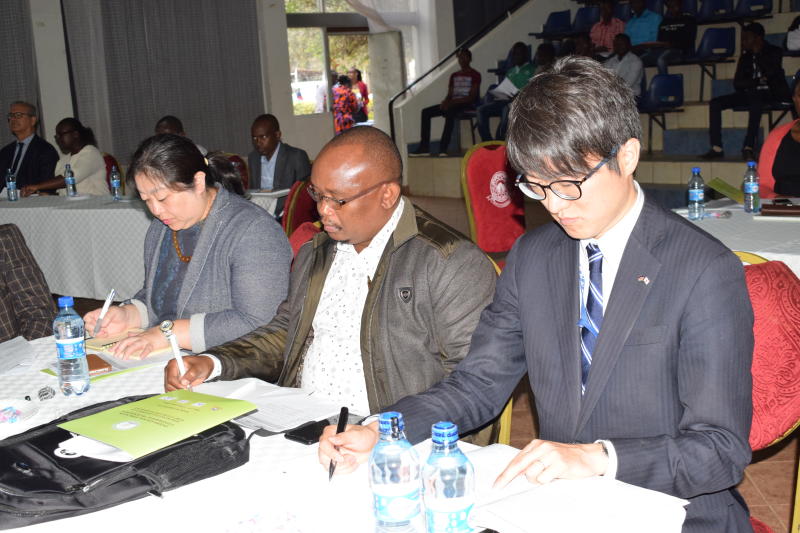 NAIROBI, KENYA: Kenya intends to enhance the utilisation of geothermal resources for electricity generation and diversify to other innovative direct uses such as recreational, agricultural and industrial applications, among others.
The Principal Secretary, Ministry of Energy Joseph Njoroge, revealed this to participants of a two-day International Forum on Geothermal Technology conference organised by Jomo Kenyatta University of Agriculture and Technology (JKUAT), Japan International Cooperation Agency (JICA), Kyushu University (Japan) and KenGen at JKUAT.
Njoroge, who was represented by the Ministry's Chief Geologist, Chrispin Lupe, observed that this year's conference theme, "Technological Framework and Innovations for Sustainable Development of Geothermal Resources," was relevant to the current status of the geothermal development in the rift region, "as Kenya intends to enhance the utilisation of geothermal resources for electricity generation and diversity to other innovative direct uses such as recreational, agricultural and industrial applications among others."
To attain the objective of structuring target research areas and frameworks for future collaboration, the PS said, workable cooperation areas and frameworks were necessary to enable the region cope with emerging issues pertaining to sustainability in geothermal development.
Njoroge further said that it would require constant human interactions and interventions in areas such as capacity building, reservoir engineering to improve success rates in drilling programmes, efficient power generation technology, optimising fluid re-injection and recharge and minimising loss through evaporation to ensure sustainable exploitation of geothermal resources.
Read More
He informed participants that success in the sphere of power generation and direct use of application of geothermal energy will require appropriate policy and regulatory framework, scientific and technological research linked to industry requirements and above all, adequate skilled human capital.
"Jomo Kenyatta University of Agriculture and Technology supported by JICA and Kyushu University is already setting the pace for continuous training at university level," the PS stated.
The Ministry, he reiterated, was focused on continued cooperation and development in the geothermal sector through technological advancement and home grown innovation as key driver for sustainable development of geothermal resources in Kenya and Africa as a whole.
Senior Deputy Director, Energy and Mining Group at JICA Headquarters, Eiji Wakamatsu, lauded JKUAT for hosting the second edition of the forum noting, geothermal energy can be one of the solutions to tackling two of the biggest challenges facing Africa and the world today — universal energy access and global warming.
"Global warming is an imminent threat calling for our immediate attention. We live in a world that is one degree warmer than before the industrial revolution. In Kenya and throughout Africa, severe floods and droughts are disrupting the lives of farmers and stable supply of energy," he said.
Wakamatsu identified lack of access to electricity as an area calling for urgent attention from stakeholders. "Currently, one billion people around the world lack access to electricity. In sub-Saharan Africa, around 600 million people still live in the dark. According to the International Energy Agency (IEA), in 2030, more than 600 million people in sub-Saharan Africa will still have no access to electricity," he observed.
Referring to two significant milestones agreed upon by the international community: the Sustainable Development Goals (SDGs) and the Paris Agreement, Wakamatsu said the two ambitious undertakings "underscored that business as usual will not get the world where it intends to be by 2030."
Failure to attain the seventh SDG — to ensure access to affordable, reliable, sustainable electricity for all, will mean a whole generation of people will lose out on the opportunity for quality education, health and to earn a livelihood, observed Mr. Wakamatsu.
The forum brought together local and international stakeholders drawn from the geothermal sector including relevant government departments, donor agencies, researchers, academics and communities to chart a common vision on geothermal research for the region.