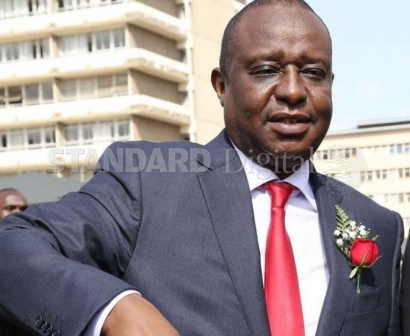 The operations of county governments could soon be affected as the national government continues to hold more than Sh50 billion in equitable share meant for the devolved units.
The funds are part of the Sh329 billion approved by the National Assembly for disbursement to the 47 counties in the 2017/18 financial year.
Sh77.4 billion was meant for disbursement in the first quarter.
Read More
Treasury last week said only a fraction of the amount had been disbursed to select counties owing to a technical hitch in the legislative process.
"The County Allocation of Revenue Act (CARA) 2017 was approved by Parliament and assented to by the President. However, the schedule of disbursement approved by the Senate was at variance with the CARA," said National Treasury Cabinet Secretary Henry Rotich in a notice in the Kenya Gazette.
"The National Treasury is awaiting clarification from the Senate on the same. In the meantime, Treasury has released Sh20 billion to some county governments for the payment of staff salaries and key services."
The Council of Governors (CoG) had earlier this month written to Treasury asking for the speedy disbursement of county allocations to allow the governors to discharge their mandate.
New levies
"County governments have not been able to receive their monthly disbursements dating back to the month of July 2017 when the 2017/2018 financial year came into effect," said CoG in a statement signed by the chairman, Josphat Nanok.
The governors asked Treasury to fast-track the disbursement, citing disruption of essential services and non-payment of salaries.
Last week, Nairobi Governor Mike Sonko had to contend with backlash from 13,000 county workers who threatened to down their tools over delayed September salaries. Sonko blamed the outgoing finance county executive for intentionally delaying requests to the Controller of Budget for the timely release of the funds.
Last month, Treasury published the County Governments (Revenue Raising Regulation Process) Bill, 2017, spelling out new requirements counties have to fulfil before introducing new county levies.
The bill restricts the new county governments from introducing new levies for at least one year as a measure of standardising county taxes, fees, and licences.
Governors will now be required to seek approval from several bodies, including the National Treasury, the Auditor General, and the Commission on Revenue Allocation before introducing new charges.
"Where a county government intends to impose a tax, fee or charge, the county executive member for finance shall, 10 months before the commencement of the financial year, submit particulars of the proposal to the National Treasury and the Commission on Revenue Allocation, CRA," reads Section 4 of the bill.