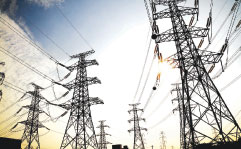 The alternative lines will mostly benefit Nairobi County which has over 50 per cent of the large power consumers. [PICTURE: FILE]
By Macharia Kamau
Nairobi, Kenya: Kenya Power will over the next two years build alternative power lines dedicated to serve its large power customers at a cost of Sh2 billion.
The firm said the new lines are expected to provide large consumers such as manufacturers and hospitals uninterrupted power supply even in instances where there are planned power interruptions.
The Company's Chief Manager for Distribution Joseph Masibo said the project to be completed in 2016, will initially benefit the Company's top 100 customers and a further 200 essential service customers.
These will include hospitals and security installations before it is extended to other major power consumers.
Read More
He said the move would help manufacturers, industries and other major users of electricity continue with business with minimum interruptions.
This is even as the Company minimises revenue losses arising from maintenance works. "We have identified beneficiary customers and installations and the process of designing alternative supply lines is in progress," said Masibo.
He added that the Company has begun the process of expanding and upgrading the electricity distribution infrastructure in anticipation of the expected 5,000MW generation capacity to be procured in the next three years.
Kenya Power has over 2.4 million customers out of which 5 000 are categorised as large power customers. Despite their small percentage in the overall population of the Company customer base, they contribute over 60 per cent of energy sales.
Over 50 per cent of the large power customers are based in Nairobi with the Industrial Area and the Central Business Districts having the highest concentration.
The plan to build dedicated lines to large consumers of part of a Sh55 billion ($637 million) plan to overhaul the power distribution system over the next three years.
The plans also entail revamping and building new power stations and transmission lines to increase the stability of its electricity distribution network that is prone to frequent unplanned power outages.