By Steve Mkawale and Alex Kiprotich
Members of the diplomatic corps have praised Prime Minister Raila Odinga for efforts to reclaim the Mau forestland.
The diplomats, who joined the PM to plant trees in Mau, pledged to support the Government's initiative to reclaim the water tower.
Finnish Ambassador to Kenya Heli Sirve, who was among three diplomats who addressed the gathering at Kiptunga Primary School, said the initiative would receive support from the Green Climate Fund.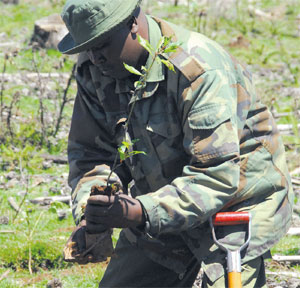 Thousands of Kenyans planted seedlings in the Mau on Friday. PHOTO: Maxwell Agwanda/STANDARD
"The steps the Government has taken would definitely receive support for sustainable management of the Mau Forest Complex," she said.
Sirve said with the increase of the forest cover, the Government earnings from forest produce would increase to Sh2.5 billion per annum.
Bernard Ray, the head of the EU delegation, said the Government has a clear policy on restoration and conservation of the Mau and urged the PM to ensure the policy is implemented.
Ray urged the Government to maintain regular flow of information to diplomats and remain committed to the international agenda on climate change.
United Nations Environment Programme (Unep) representative Angela Cooper also supported the drive. She said Unep would support research and creation of awareness on the effects of forest destruction.
She said the organisation would fund efforts aimed at reversing environmental destruction. She saluted Raila for making tough choices to ensure the forest was restored.
"It is important the PM made such important decision in the interest of many rather than for the rich and few," she said.
Raila assured them he would not relent in the push to restore the forest and reiterated he was ready to lose his political support for the sake of conserving the water tower.
Raila said efforts to conserve the Mau were noble, terming those politicising the issue "enemies of the people of Kenya".
The PM told members of the Ogiek community the Government would take into consideration their plea to remain in the forest as they were hunter and gatherers.
Noble Peace laureate Prof Wangari Maathai hailed Raila, saying it was the first time in 30 years the Government had moved boldly to conserve the vital water tower.
The chairman of Mau Forest Interim Co-ordinating Secretariat Hassan Noor Hassan said the conservation of the forest would be done in five phases.