Lifetime friends died, as always, holding hands
By Amos Kareithi
It started with an innocent smile between two children, a handshake, and ultimately an embrace which bore a bond of friendship that lasted more than 15 years.
When two tiny girls met in a kindergarten class in 1992, their mothers had no idea this was to mark the beginning of a sisterhood that would thrive to their adulthood.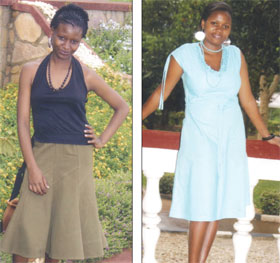 Melisa left and Selina in pictures taken recently. [PHOTOS: COURTESY]

Despite coming from different backgrounds, and communities, the girls had been inseparable from the day they met at Wonderland Kindergarten in Lang'ata, Nairobi.

Age, geographical distance and incompatible cultural and traditional backgrounds could not tear them apart.

This is the story of Melisa Wairimu and Praxedis Selina Achieng whose friendship thrived amid many odds until they were violently torn asunder by the cruel hand of death last week.

As the two walked out of Melisas's a home to Ole Kasasi shopping centre, just next to Nazarene University near Ongata Rongai, on December 30, there was song and laughter on their lips.

After all, this was their day off after waiting at tables at Masai Lodge, where they had been working holiday jobs for a month.

It was about 2pm and the girls had time ahead of them to complete personal errands.

But even as they chatted and walked, planning for the New Year, fate awaited them in bizarre circumstances.

The serene afternoon walk was shattered by a scream from James Mureithi, one of Melisa's brothers who had accompanied them to the shops.

Mureithi was shouting at the two girls to get out of the way as he jumped out of harm's way.

The girls, who were walking as they held hands, might not have grasped what Mureithi was telling them, for they did not seem to react.

Blue vehicle

"I saw a blue vehicle veer off the road and hurtle towards them, as they walked on a field about 100 metres from the road," said Mureithi yesterday.

The girls never had a chance. It seemed they were too engrossed in their talk," an eyewitness, Jane Kibe explained.

A car, which was being driven at a high speed, according to witnesses, veered off the road and ran over the girls way off the road.

Kibe recalls how she watched in horror as the driver of the vehicle, which hit a ditch as it careened out of control, was hurled out of the vehicle before it mowed down the girls.

She rushed to the scene with other residents, picked up the victims and rushed them to another car, intending to rush them to hospital.

"But it was too late. It was obvious they died from impact. They had been hurled in separate directions and were about 50 metres from each other when we picked them," Kibe said.

Cruel joke

"Even now we can't understand the cruel joke played on us by fate. The girls were too far away from the road," Melisa's uncle, Samuel Mutahi said in tears.

As they did in life, the two girls have united their two families in grief. Selina had been staying at Melisa's place during the holiday season and the two families had become friends because of the two.

It was not unusual, the two mothers told The Standard, for their daughters to spend their holidays together.

Selina's mother former kindergarten teacher Rosemary Ekesa Obwori, retraces the roots of the friendship: "I was assigned to teach Melisa. This was the first time I saw her. She became friendly to my daughter Selina, who was two years older and they bonded very closely."

The friendship of the two girls drew their mothers to meet and become friends.

"It was strange how the two girls became bosom friends who were inseparable. They got so close that my neighbours thought they were both my daughters," Anne recalls.

Melisa , who was born on January 4, 1990, was due to return to St Lawrence School and College in Kampala, Uganda, on February 1, this year, for her final year in Form Four.

Her soul mate, Selina had cleared Form Six after sitting Uganda Advanced Certificate Education at the same institution, last year.

Melisa's parents, Winston Osore and Ann reside at Ole Kasasi, near Ongata Rongai, while Rosemary and her mother, who hailed from Budalang'i, lived in Lang'ata.

Although the two families are still grappling with their loss they, just like other neighbours, marvelled at the lives and times of the two teenagers who lived like twins.

The families too have chosen to hold joint daily meetings at Ole Kasasi, Melisa's place, although they will buried separately.

"They spent nearly all their lives together walking side by side, but they will now be interred hundreds of kilometers apart as Melisa will be buried in Ole Kasasi on Friday, January 8 while Selina will be laid to rest three days later on January 11, in Nanyuki.

Even as Ole Kasasi residents mourn the two girls, they complain the new road where the accident happened has no bumps to slow down vehicles.

"I had earlier complained to an engineer that the road needed bumps as it was too dangerous but he retorted that they needed statistics. Now my daughter has become a statistic. I hope they will act now," Anne tearfully said.
Tecno launches Camon 19 and Spark 9
Tecno Kenya announces launch of Camon 19 series & spark 9 seriesThe CAMON 19 Series will offer incredible night-time photography features & the SPARK 9 Series will redefine selfie and iconic design for Gen Z.