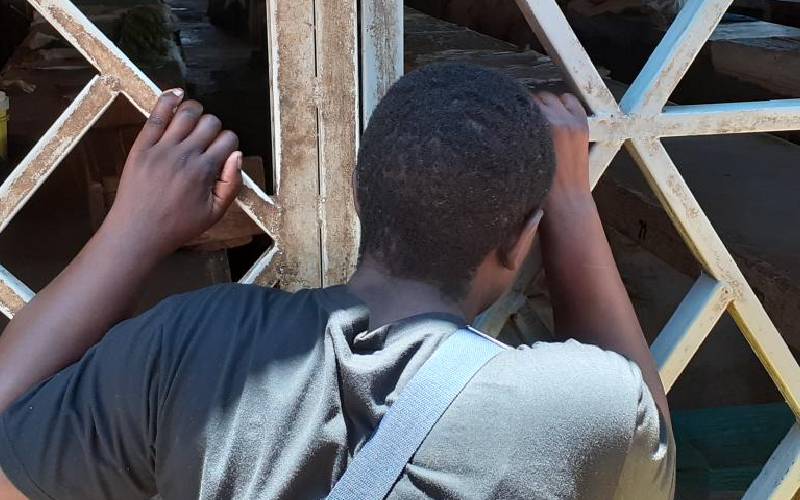 My social distancing situation mostly sounds like this, "Mathew sit down! Toka jikoni! Stop eating! Vaa socks the floor is cold! Stop running utaumia na nisiskie ng'weee!" Now I sound like my mum. I thought this ends by age 5. Kumbe shule inafichaga majanga ???? This dude is stuck between childhood and teenage. I'm now worried about my mum friends with 4 children in the house. Are you OK? ????
On other days, I don't chase my almost 11-year-old son from my space. Sometimes I go and check on him because this experience is confusing all of us. I check on him because sometimes he blacks out from the confusion and fatigue and sleeps at midday. I only check on him to confirm that he's breathing. Suddenly there's no bedtime for him. I own the TV and he and my small sisters stay on their lap tops and phones. My house, my rules, my TV I say.
We all sleep late. Mathew sleeps at 9 or even 10 PM instead of the usual 7PM on school nights but that's just a general assumption that if he's not in the living room, he's asleep. I just recently found out that he's been working out before bed and he sometimes end up sleeping past 11PM. This is because of the sudden interest in some football family he's been following on YouTube daily. Oh well, at least it's positive influence. Too bad Corona will not allow him to go play at Ligi Ndogo on Ngong' Road or is it because I cannot afford the fees?
As for me and my sisters, everyone sleeps when they finally get tired, which basically means between past midnight and A.M thereabout.
Read More
With this in mind, our normal clocks have been meddled with. We all basically wake up past 10 AM, eat a heavy breakfast, we never know when lunch time is, we eat later in the afternoon and dinner is never a given. Tea most of the time suffices.
What keeps all of us busy? My son has been working on some school assignments sent to us via WhatsApp. I honestly do not help because one, sometimes I wonder if my primary school education was that hard. Also, my small sisters are great tutors, and for free! I stick to providing the shelter and nourishment, they help my son with school work. It's a win-win situation. Also, I basically doubt I know much about simplification or algebra and I might just be of no help. So, for now I'll stick to signing his school diary.
One of my sisters is supposed to be graduating this year so let's hope this Corona menace ends soon because I can no longer afford to pay her rent out of town. She should be busy with school assignments but she only has her final exams to carry out before she's done so for now, she's busy on snap chat and her new YouTube page about beauty and other millennial things that I honestly can't seem to catch up with. This is the sister you must call loudly and give one instruction at a time or she'll leave something on the stove and burn the house while online.
The other sister is the most reliable in the house. She's self-driven and very clean almost to an Obsessive, Compulsive Disorder level. I was once at a restaurant with my son and better half and my son could not help these words coming from his mouth, "If aunty Maureen was here this place would be very clean" She's the reason I don't worry about putting my alarm on school days, the reason Mathew now knows how to wash his own clothes, wash dishes, clean the table and make his bed. My son is basically boarding-ready but I'm a clingy mum. This sister goes to school too. She has a certificate in catering, a deferred business certificate and currently learning to be a social worker at a local counseling school.
What keeps me busy? Being on circumstantial leave, in that I'm part of the at-risk staff, what keeps me busy is worrying about my soon to be born child, worrying about my folks who we can't visit yet they live 40 minutes away from us because we might bring infections with us that they might not survive. Good thing they are mobile savvy so my mum checks up on us and vice versa daily and woe unto you if she can't find you. The dramatic overreaction is unmatched. I'm also busy making sure my Uber driver brother is home by 7PM because I have no money or intension of leaving the comfort and safety of my house to go save him from the wrath of the police officers who are understandably bitter because instead of staying at home with their loved ones and being safe from the disease, they have to run after adults who have simply refused to follow the law of the land. I'm also busy worrying about the tough economic times that lay ahead for my employer and every business, big or small out there that might require the employers and businessmen and women to take drastic measures that may or may not lead to pay cuts and/or unemployment and more strenuous financial situations for me and many others. What keeps me busy? Checking up on friends and family while praying to God that this scourge ends soon so we can move on with our lives.
Yet all those are the more serious things that keep every caring adult busy. What nice things keep me busy? Memes! Thank God for internet and the creative minds all across the globe because these minds make us afford good laughter and smiles despite of the current situation. Over the many self-isolation days, we have made fun of ourselves and how we do not always know what day it is, how we're worried that we'll find grass growing on our office keyboards, how parents have been caught in their lie that they enjoy time with their kids, how married men and women apparently prefer their spouses being busy and not at home, how the other woman is now suffering for lack of sponsorship and finally responding to messages sent by people they ignored in December of last year, how slay queens are no longer updating us on the food they're eating complete with photos on Snap chat or Instagram because they can no longer afford restaurant food and now their home cooked meals plus the cutlery and servants quarters' background is too ugly for social media display, how all women are now suffering because the salons are closed, how single men and women with no children are now more than willing to get babies. "Nikiwaza hii story ya Corona na sina hata mtoto, historia yangu ikisomwa itakua fupi yaani marehemu alizaliwa akazurura akafa"
Aside from Memes, there's a new App called Kubool which when one subscribes to it, your personal contacts can ask you very personal very deep very risky questions whose answers you choose to display for everyone to see on your Facebook page. This App I believe is for sociopaths otherwise why would you see another person embarrassed by those questions, share the embarrassment publicly and then you join to gather questions for yourself? Yet for me who hasn't subscribed, it's very entertaining and I get to know so much about people. I'm not a saint but I'd rather keep my former sins to myself.