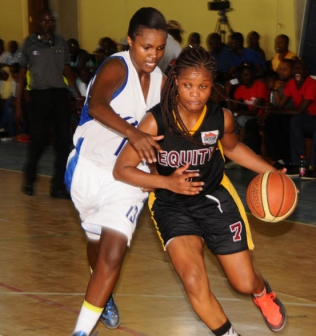 Kenya Ports Authority (KPA) women's team defended their title at Africa Zone V Championships in Kampala, Uganda, last night.
KPA, Equity and Uganda Christian University (UCU) tied on 11 points, having won five matches apiece. The three teams accumulated 11 points each but KPA won a goal difference after conclusion of a tie breaker .
But form is temporary, class is permanent. And that was the lesson Kenya Ports Authority (KPA) taught Equity Bank Hawks at the 2017 Fiba Africa Zone V Clubs Basketball Championships that concluded at Lugogo Indoor Arena in Kampala, Uganda, yesterday.
It was sweet revenge for KPA as they toyed around with Equity to register a 61-47 win. Equity started the game strongly against KPA who trailed them 15-13 in the first quarter and high expectations that bankers could carry the tip-top form into the second quarter but KPA stopped them, winning second quarter in 44-32 before the break.
KPA resumed with renewed determination and pinned Equity down to win the third quarter in 44-32. This is what inspired them into 61-47 win in the fourth quarter.
Before the crunch encounter, most fans expected a crowning moment for Equity, oblivious it was another archetypal case of so-near-yet-so-far. The bankers, who maintained unbeaten streak in the tournament, only needed to pull a win against KPA to wear the Fiba Africa Zone V Clubs crown. It was not to be.
KPA's win is simply the opposite of 2016 Kenyan Basketball Federation (KBF) Women's Premier League title chase, where Equity won their maiden league title by beating KPA 73-58 (3-2) in the best of five series playoff finals at Nyayo Stadium in Nairobi in last February.
Equity's loss to KPA yesterday boosted a tie breaker session that included Uganda Christian University (UCU) Canons. The three sides had lost a match each in the round robin format tournament that KPA were defending champions, having won it in Dar es Salaam, Tanzania, last year. Canons lost 74-66 to Equity while KPA lost 69-68 to Canons. [Erick Ochieng]