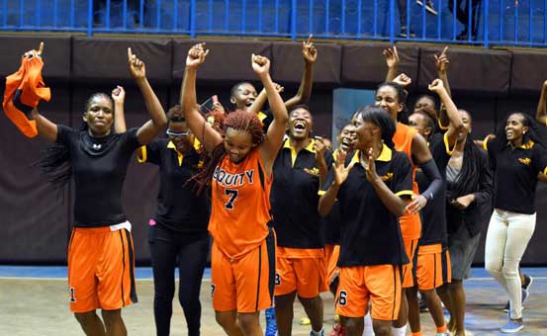 Equity Bank Hawks edged hosts Kampala Capital City Authority (KCCA) 56-51 on Monday to win their second straight game at the ongoing Fiba Africa Zone V Clubs Basketball Championships at Lugogo Indoor Arena in Kampala, Uganda.
The bankers took a slim lead of 30-29 at halftime, and warded off strong attacks by the hosts to maintain the lead until the whistle was blown.
The first quarter was a see-saw affair. Equity opened a 9-2 gap, but the hosts bridged this before winning the period 14-12.
Equity slumped in their work rate at the start of the second quarter. They trailed the hosts with a difference of half a basket in most part of the period.
It was not until the end of the quarter that the bankers got their groove to dominate KCCA, with several three-pointers that were ultimate game changers. Equity won the quarter 30-29 before the sides went for a break.
On resumption, Equity gave KCCA no room to breathe with their head coach David Maina issuing fierce instructions along the touchline.
Players awake
The firm instructions kept Equity players awake and abreast with the pace. Equity maintained their lead to win the quarter 43-38.
The bankers maintained the tempo in the fourth quarter, ensuring the hosts had no room to loop in treys and convert rebounds.
The strategy kept the visitors ahead of the hosts and Equity were finally able to bag the game 56-51. Equity had won their first match 70-48 against Don Bosco of Tanzania.
While Equity were basking in glory, things went south for defending champions Kenya Ports Authority (KPA) who lost their opening game with half a basket to Uganda Christian University (UCU) Canons, who won 69-68.
KPA started the highly charged duel well with a 17-11 win in the first quarter. UCU narrowed the gap in the second quarter which ended 30-29 to KPA's favour. KPA were determined to maintain the lead and their struggle gave them a 53-47 win in the third period.
The fourth quarter went well for KPA until the last one minute and 39 seconds of play when UCU ran riot. The hosts resolved to protect the home court and launched an incredible comeback with several treys to execute a painful 69-68 win against the visitors.
"What an incredible comeback," UCU supporter Tumusiime Rwaheru, who was following the match on live stream wrote on Federation of Uganda Basketball Association facebook page.
Betty Kananu had 21 points as Felmas Adhiambo added 18 for dejected KPA.Ritah Imanishimwe had a game-high 28 points for UCU.