The world is watching keenly Uhuru, Ruto's political paths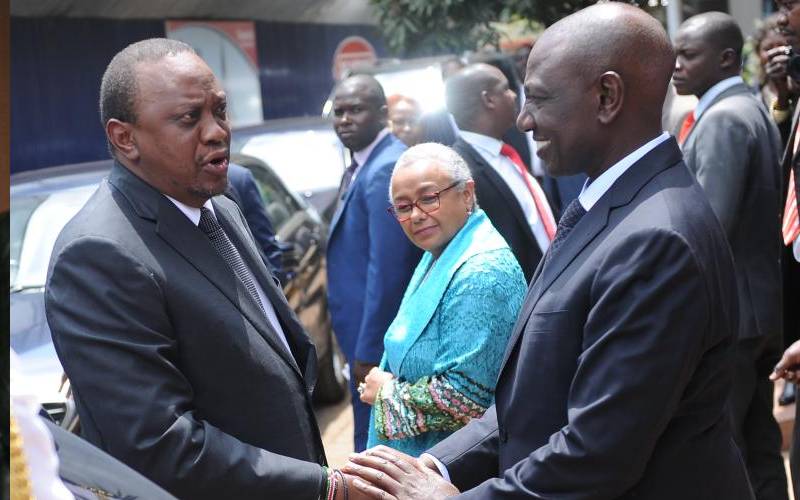 President Uhuru Kenyatta and his deputy William Ruto would do well to take seriously the invitation by the Catholic Church to recall them to order. Memory is brief.
That is why the great poet called life itself "a walking shadow, a poor player who struts and frets his hour upon the stage and then is heard no more; a tale told by an idiot, full of sound and fury, signifying nothing."
It is not just about brevity and meaninglessness of life, but of the memory of it, too. That's why telling of it must sound like an idiot's narrative. And I don't doubt that memories about President Uhuru and Ruto in earlier incarnations must sound like tales of idiots. To advance from there, to seek to restore them to order, must seem foolish. Our people say when you have soiled the bush, you will forget. However, those who step in your mess will not forget. The world has not forgotten that Kenya soiled the ground, 15 years ago. The friendly world stepped in the mess.
When that world listens to Kenya's political top brass, it remembers the mess. It, especially, remembers that Uhuru and Ruto were on opposite sides of the bloody mess.
Whether Kenyans know it or not, that world sees Kenya's political ace politicians through the same lenses as it saw the leadership of Liberia in the troubled 1980s to early 2000s. It remembers Charles Taylor, who today cools his heels in jail, having been given 50 years, for crimes against humanity, acts of terrorism, atrocities against personal dignity, mutilation and a cocktail of kindred offensives against humankind, in Liberia and Sierra Leone.
The world sees in Kenya's leaders the mirror images of the Prince Johnsons, Samuel Does, Amos Sawyers and sundry merchants of terror in West Africa through three decades. The world reminds itself that at one point, or the other, these warlords were friends. Taylor was Doe's ally when they overthrew and killed President William Tolbert in 1980. They later fell out, amid claims of corruption. Sounds familiar?
Later, Taylor mounted an armed campaign to topple Doe. The world recalls that Prince Johnson was Taylor's top commander, but that they fell out, ahead of Johnson slaughtering Doe in the Executive Mansion. He displayed Doe's mutilated naked body through the streets of Monrovia, in a wheelbarrow. And I intend no pun.
The world has seen politicos who have been in bromance fall out, engage in wars of words and – eventually – the wars of words give way to atrocious physical violence. It is convenient for Kenyans to forget where Uhuru and Ruto came from. But the world that stepped in, during the 2007 – 08 mess, is not about to forget. Accordingly, it should not surprise Kenyans that the world is watching and taking notes.
Watching from outside, you are likely to see different incarnations of Salva Kir and Riek Machar of South Sudan in Kenya's top two. They are friends today, running the same government together. But tomorrow morning, they spring back to costly belligerence. Hence, whether they know it or not; and whether they care or not, the world is watching Kenya's political class. It is classifying and labelling every audio visual clip of interest, just in case. Just in case what?
Just in case the past returns, with the same suspects who seemed to have patched up their differences, seeming to be in the drivers' seats, "to finish old business."
Whether the belligerent top knows it or not, there are youth out there, vicariously baying for each other's blood, on their behalf. If this UhuRuto animosity is not nipped in the bud, it could mess up the country. But, as the peacemakers reflect on the way forward, they must also reflect on how to rope in other parties of interest, beyond UhuRuto. There are fellows in ODM, especially, stoking the fires and sounding sinister drums. They, too, must be restored to order, beginning with their boss. Kenyan lives must signify something beyond political bluster and selfish agenda.
Dr Barrack Muluka, PhD [Politics & International Relations, Leicester, UK]. Strategic Communications advisor. www.barrackmuluka.co.ke