Flawed polls is our Achilles' Heel, will the BBI solve this?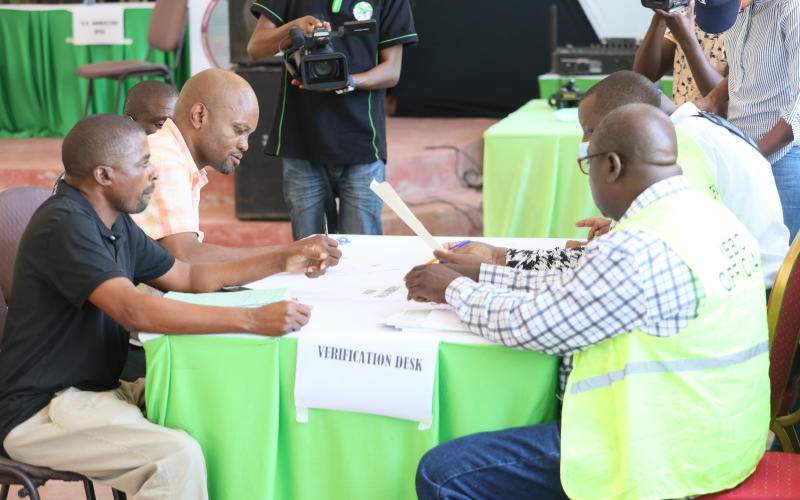 We keep lying to ourselves. Let me jog your memory. In 2017, National Super Alliance (NASA) leaders boycotted the October 26 repeat presidential election. They issued an ultimatum with 11 reform items, called "Irreducible Minimums on Electoral Reform." If these things were not done, they would keep off the election and call mass action.
NASA grievances ranged from technical issues on the ballot papers to result tallying and transmission technology. They wanted the papers done in a certain way, servers be in known locations and comply with Kenya's ICT laws. They did not want cloud servers in transmission of results. They spoke of the composition of the IEBC and the way it functioned. They wanted independent ICT experts to manage the framework, under supervision of agents and IEBC. There were many other issues.
None of the "irreducible minimums" was undertaken. NASA boycotted the election. Searing violence followed. The election went on, anyway. Uhuru Kenyatta was declared President and sworn in. Innocent lives were, meanwhile lost. People were maimed and property destroyed, as violence increased. NASA presidential candidate Raila Odinga declared himself "the People's President." He swore himself in. The country got ready for the worst. But, in a surprise move that many welcomed, he reached a friendly settlement with President Uhuru Kenyatta. They resolved to work together, to address what ailed the country, especially at election time.
The spin off has been the Building Bridges Initiative (BBI). The Bill is now before Parliament, having massively sailed through 40 County Assemblies at the time of this writing. It is proof that nobody can stop reggae. But what reggae? It looks like the reggae of a nation that buries its head in the sand.
Kenyans have heard that BBI has expanded the Executive and created the office of Leader of Opposition. It has proposed a judiciary ombudsman to be appointed by the President. It calls Cabinet Secretaries, Ministers. These Ministers may be appointed from Parliament, or elsewhere. BBI has done many other things, like benchmarking devolved funds at 35 percent and creating a county development fund. It is expected that because of all these, Kenyans should never shed blood again because of an election. But have we run away from why Kenyans fight at election time? The NASA memo of 2017 never complained about the size of the Executive. It was not about the election winner taking everything. It was about a stolen election, or an election perceived to be stolen.
The BBI Bill is silent on all the 11 "irreducible minimums." Nowhere does it say anything about curing defective elections. Nothing about how to deal with a recalcitrant IEBC that defies court orders, and nothing about an election loser who rejects the results and swears himself in, amid calls to violence.
The political reggae that Kenya knows most is the reggae of defective elections. Can an expanded Executive stop this reggae? What of the reggae of violence before, during and after elections? The logic seems to be that BBI is bringing enough seats to pass around. Accordingly, there should be no fighting, even if an election is defective, or stolen. The IEBC may refuse to open its servers, despite a court order, but all should be well, because there is now enough room for everyone, including a brand new office for the Opposition.
Kenya's political top brass has its head in the sands. It is busy bulldozing the country through a process that could only foment more problems. Even as they go about this, notorious town criers and hired sirens are busy posting hugely provocative messages in the social media. Self-styled professors of unknown academic background are busy on Twitter and other platforms, targeting specific ethnic communities and individual politicians from those communities. The squint-eyed NCIC has no capacity to see the incendiary goings on. They are waiting for the fires.
Even Odinga, the peacemaker, has crowed against those with different views, "Let them not change their mind! Let them remain where they have been! We want to meet you at the debe!" It is common logic that you don't build peace by creating new enemies.
To the credit of the leaders who met at State House on Thursday, they said in a statement read by Kanu National Chairman, Gideon Moi, that they wanted everybody to join them towards building a united country through the BBI. That is as it should be. Yet the need to watch against incendiary remarks that could set the country of a stormy course remains. Beyond this, the NASA irreducible minimums of 2017 also remain. If they are not addressed, they will haunt us.
Separately, the role of MCAs in the process this far is disturbing. It started in Sagana, Nyeri County, where President Kenyatta met selected leaders from Mt Kenya. What is most memorable is the Sh2 million car grant for MCAs, as a tradeoff for passing the BBI Bill.
They asked for more, which the President turned down. It is difficult not to see the overwhelming approval of the BBI Bill away from the car grant. It begins looking like a bribe. Moreover, the Salaries Review Commission has clarified that this benefit will not be extended to future MCAs. This makes it a special purpose facility. The grant can only be a payoff to the MCAs in exchange for what they have done.
-The writer is a strategic public communications advisor.