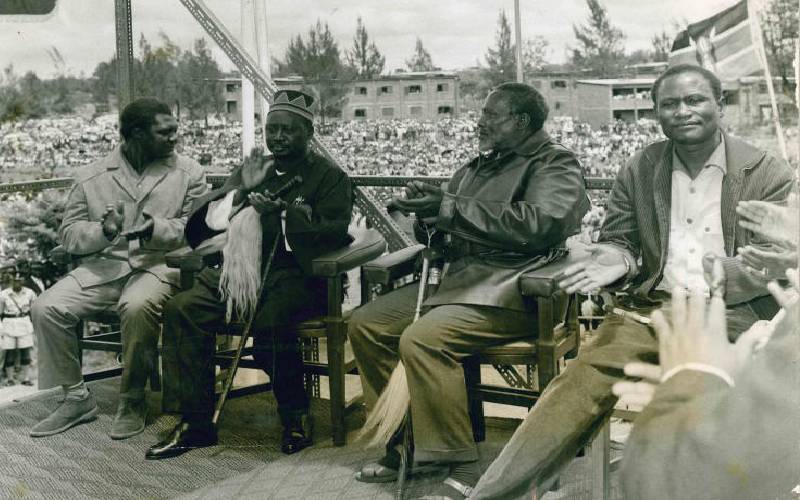 I once sat sipping a quiet cup of tea at a cafeteria in the city of Basel in Switzerland, staring at the marvel that is the Rhine. It was August 1998, almost 20 years to the day since the passing on of President Jomo Kenyatta. An elderly White man of about 70 sidled into a seat at the table next to me. He kept eyeing me genially, attempting to strike a conversation. Language, however, became an instant barrier. He spoke German, while English and a smattering of French was all I could boast of. Through whatever cracks we could break into the three languages, we established that he was a German Jew who lived in Switzerland. He had only heard of Africa, but never been here. When he learnt that I was from Kenya, his eyes brightened up as he proclaimed, "Kenyatta! Great man, Kenyatta!" For a while, that was all he seemed to know of Kenya and Africa. He craned his neck around and cast his eyes about the place, as if he was looking for something written in the air. Then, excitedly, he mentioned Nyerere and Nkrumah. He eyed me triumphantly, to show that he knew something about my country.
SEE ALSO: Uhuru's mega merger of rich State firms
Such is the memory of our forefathers who begat us. They are the fellows whom the writers of great canticles and psalms have said: "Let us now praise famous men, and our fathers that begat us. The Lord manifested in them great glory... Such as did bear rule in their kingdoms and were renowned men for their power, giving counsel by their understanding." Jomo Kenyatta was one of them. Some of my readers have previously quarreled with me for calling him a great intellectual and a statesman. Yet even the fact that a septuagenarian on the banks of a strange river thousands of miles away recalls his name should mean something to us. That is why we should be baffled when President Uhuru Kenyatta suggests that the memory of the founding president should now be tucked away in the dustbin of history. For President Uhuru proclaimed on Thursday last week the coming down of the curtain on public commemoration of the passing on of President Jomo Kenyatta, 41 years ago. A somber President Uhuru told the gathering at the Holy Family Basilica that, as President, he had held consultations with the Kenyatta Family. Together, Uhuru said, they had agreed that last week's celebration of the founding President of the Kenyan nation was going to be the last public one. Henceforth, all those who wish to remember him would do so in private and in their own ways. Has President Uhuru walked into complicated terrain? The memory of Mzee Kenyatta is perhaps a lot more complex than President Uhuru imagines. When people have occupied certain spaces and accomplished certain feats, they become bigger than their biological families. The memory of a colossal such as President Jomo Kenyatta is far too big to be confined to his immediate family in Gatundu. The Kenyatta Family includes all of us, Kenyans. Yes, it is true that there is Uhuru. And there are his siblings. There is the extended Muigai and Ngengi family. And they have their other relatives in Mt Kenya and elsewhere in the country. Then there are the rest of us. We also belong to the larger Kenyatta Family. Nothing attests to this more than the fact that we interred the remains of the founding President in the grounds of Parliament in Nairobi.
SEE ALSO: Final Fate of five nominated Jubilee senators lies with NEC
If Jomo and his memory were the exclusive property of the family in Gatundu, we would have rested his bones there. We understood however, in 1978, that he belonged to the whole nation. The strategic position of the grounds of Parliament gives us the opportunity to remember the late President whenever an astute occasion presents itself. Hence, whenever a befitting dignitary should be visiting us, it is in order that s/he should visit the resting place of the founding President in the City Square. It is in order that such a visitor should lay a befitting wreath on the grave of Jomo. The nation itself must stop for a moment, to reflect on their glorious departed one. Then, we must get back to work, to make our own footprints in the sands of time. But we must never be tempted to erase Jomo's footprints, regardless that we liked them or not. He must continue to inform part of our national discourses and conversations. Pushing him into the backyard of history denies future generations a critical element of their heritage. In this regard, we have steadily made the mistake of taking the remains of other national grandees and notables back to their villages. Jaramogi Oginga Odinga's family wanted him to be buried in Nairobi in a heroes' corner in 1994. The government of the day was, however, too hostile towards him even in death. They could not countenance that kind of thought. They even refused to bedeck his coffin with the Kenyan flag. This was such a shame and perhaps the less said of it the better. Tom Mboya was buried on Rusinga Island amidst huge tensions. Others who were interred in similar tense national moments include Ronald Ngala, J M Kariuki and Dr Robert Ouko. President Uhuru and immediate Kenyatta family have probably just about had it with the recurrent upbraiding of their family and the Kenyatta name. But that is the price they must pay for the perch they occupy in society.
- The writer is a strategic public communication adviser. www.barrackmuluka.co.ke
SEE ALSO: New revenue sharing formula clearly unfair