Baby boom in park as more than 200 elephant calves born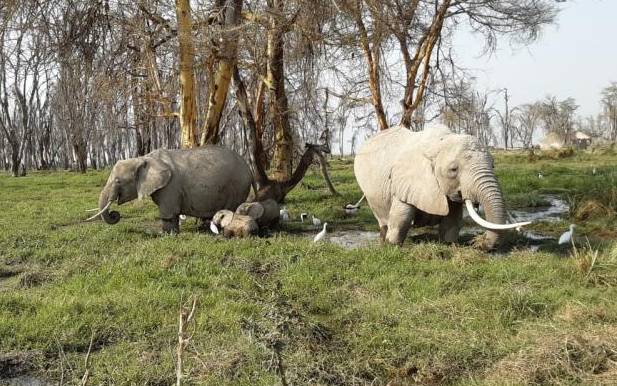 Amboseli National Park is experiencing record births of elephant calves this year, with a rare occurrence of sets of twins crowning the phenomenon.
By October 4, the park had recorded more than 207 births, bringing the entire population at Amboseli to 1,800 elephants. By June, the park had passed the 180 mark on birth of calves.
"It is not usual for so many calves to be born at the same time. It is a baby boom season and we can never miss more than ten births in a month," said Mr Daniel Kipkosgey, the acting park warden.
Consistent rains
The boom births, according to Mr Koskei, are attributed to consistent rains that led to an abundance of food from 2018 through to 2019.
Increasing and stabilising numbers of elephants in Amboseli ecosystem are also attributed to low levels of poaching.
"Whenever elephants are disturbed in their environments, they tend to change their behaviour, but whenever there is peace, their populations even stabilise in turn and that is what we have been experiencing in the past three years," he added.
Currently, the elephant population in the country stands at close to 35,000, up from 16,000 in 1989.
Despite the milestones in the conservation of elephants and rhinos, Kenya Wildlife Service (KWS) however noted that human-wildlife conflicts, bushmeat trade and commercial poaching remain a substantial threat to wildlife conservation in the country and region.
A survey by KWS revealed a steady decline in poaching cases between 2012 and 2018, with documented elephant poaching incidents.
The number of elephants poached so far this year stands at seven nationally. The figure has reduced from 34 in 2019, and 80 in 2018
According to the survey, 302 elephants were poached in 2013. That reduced to 164 in 2014, 96 in 2015, 86 in 2016 and 80 in 2017.