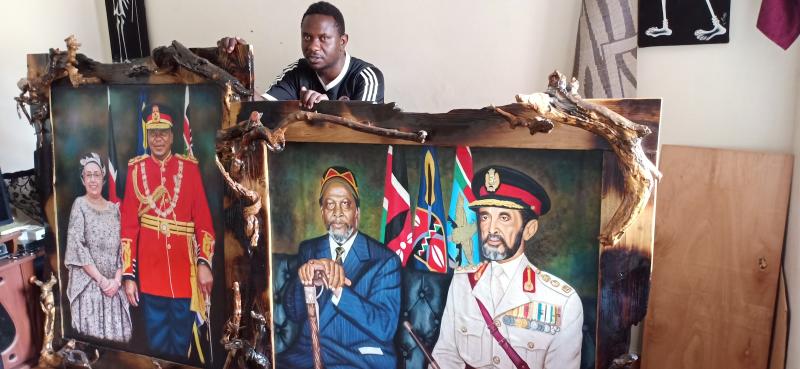 George Otieno's (pictured) passion for art started way back in 1988, on his first day in a primary school in Busia County, while staying with his maternal grandmother.
"The first assignment in Standard One for us was to draw a vehicle. I drew a pickup, which the teacher liked and gave me a red tick. Since then, I knew any good thing should have a red tick. That is when I knew drawing is good," said Otieno.
In Class Five, he started using coloured pencil. Later, he moved to Nairobi and did some causal jobs in the city's Industrial Area as a causal labourer, though he never stopped painting, albeit for fun.
"In the year 2007 I received Sh3,000 for a paint I did for then Health Minister Charity Ngilu and Sh7,000 from a former Kenya Dairy Board managing director. I then knew art pays," said Otieno at his art studio in Milimani Court in Obama Estate, Nairobi.
Commercial art
He quit the casual job, used the Sh30,000 he received after painting a picture of former President Daniel Moi to buy drawing equipment. He then set up a small workshop and ventured into commercial art.
In 2002 when President Uhuru Kenyatta was running for presidency, Otieno saw a picture of former President Moi published in The Standard wearing a red kitenge shirt decorated with Kenya African National Union (Kanu) colours and a cockerel. Besides him was President Kenyatta. He decided to paint it.
"I drew Mzee Moi and besides him put President Kenyatta. I then drew Kanu flag and wrote, "Kanu Yajenga Nchi".
A neighbour saw and liked it. He introduced me to a friend called Mutua, who worked with then Presidential Escort Unit. Mutua asked him to bring the painting so that he could see it," said Otieno.
They met and Mutua introduced him to a University of Nairobi lecturer Prof Geoffrey ole Maloiy, a close friend of the late Mzee Moi, who took the painting to the President.
"Within two days, Mutua called me and said Moi liked it and had paid Sh30,000. That was the first good amount I received from art and it was like a jackpot. The joy that President Moi liked my work and paid for it inspired me a lot," said Otieno, born in Seme, Kisumu County.
He has also sold two paintings of former US President Barrack Obama to an art collector, which fetched him Sh500,000. However, there is a Cabinet Secretary he claims owes him Sh30,000. He didn't give details.
"There are two pictures I painted of former President Mwai Kibaki on a wheelchair and another in his office. They cost Sh500,000 but I was never paid," said Otieno.