How Daniel Moi's Sh30,000 token painted my career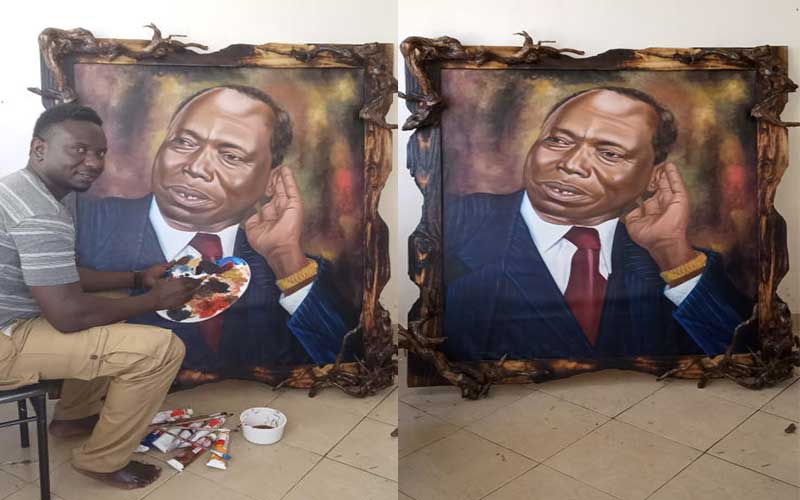 As Kenyans mourn the late President Moi, an artist George Otieno (pictured) will forever remember how his generous act turned around his life.
In 2002, Otieno saw a picture in The Standard of former President Moi, wearing a red kitenge shirt emblazoned with the Kanu logo and a cockerel, flanked by President Uhuru Kenyatta.
He decided to do a painting of the picture.
"I drew Mzee Moi, President Kenyatta and the Kanu flag and wrote there, "Kanu yajenga nchi."
Otieno's friend liked the painting and introduced him to a Mr Mutua who worked with the presidential escort. Mutua took him to meet a University of Nairobi lecturer Prof Geoffrey ole Maloiy who was close to Moi and after a few days the don presented the painting to the former President.
"Within two days, Mr Mutua who worked with presidential escort called me and said President Moi liked it and offered Sh30,000 token. That was the first good amount I received from art and it was like a jackpot," he said during an interview at his house's art studio in Milimani Court in Obama Estate, Nairobi.
Earlier, Otieno had received Sh3,000 for a painting of then Health Cabinet Secretary Charity Ngilu and Sh7,000 from a former Kenya Dairy Board managing director.
He quit a casual job and used the Sh30,000 to buy pencils, canvas, paint among other items and also set up a workshop for commercial art. "That President Moi liked my work and paid for it inspired me a lot," he said.
To honour the late former President, he is working on a portrait. "Since I never met Moi, I just want to do a painting of him and hopefully it reaches his family, since he impacted my art work, that is now my career," said Otieno, 40, a father of three.
His passion for art started way back in 1988 on his first day in primary school in Busia County.
"The first assignment in Class One was to draw a vehicle and the teacher was impressed with my work. This inspired me to continue drawing a talent that now puts food on my table," said Otieno who dropped out of school in Class Eight for lack of fees.
It was until 2010 that he worked on a painting of former President Kibaki and former Gen (Rtd) Jeremiah Kianga lifting the 2010 Constitution that he bounced back into the limelight.
A photo of the painting on display at an agricultural show was published in a local daily.
"Gen Kianga saw it in the newspaper and sent his aides to come at the showground and pick it. We went with them to Department of Defence and offered to sell it for Sh280,000 but he paid me Sh250,000," recalls Otieno.
He has also sold two paintings to former US President Barrack Obama, which fetched him Sh500,000.
Otieno also sold a painting to President Kibaki for Sh500,000.