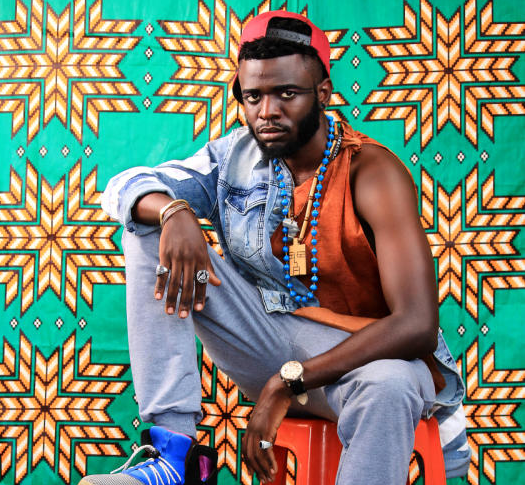 Contemporary visual artist, Matt Kayem, is out to redefine what it means to be African. In doing so, he is rebelling against social standards set to portray a 'true' African identity.
He blends urban and traditional culture in art photographic pieces in print form showcased at Kioko Art Gallery in Nairobi this past weekend.
He is dressed in bark cloth, colourful African fabrics and necklaces that are traditionally popular. He pairs these with denim jeans, unbuttoned dungaree, heavy necklaces and rings originated from hip-hop culture to come up with his own identity.
Kayem was raised in a cultural environment, which viewed locks and heavy necklaces as rebellious. Growing up in Uganda, he also listened to a lot of American hip-hop music and watched American TV programmes that have a strong influence on his identity. The detachment this brought created a thirst for knowledge in his adulthood. He got curious to learn more about the African identity and what that could look like for him on a personal level.
Read More
"I wanted to know who I am and where I come from," he says.
It is this newfound identity that he expressed at the art exhibition. He is the subject in some of the artworks. In 'Royal Guard', Kayem is seen seated dressed in bark cloth top, pairs of jeans and Jordan shoes and holding a stick "trying to say that we should safeguard our culture and our land".
Staple food
The piece was shot in his home village in a banana plantation. The artist puts a bold statement in 'Bad Muganda, Good African' in which he steps on bananas, a traditional staple food in Uganda as an act of rebellion of the choice to embrace an identity the society disapproves.
"My locks and jewelry are viewed as radical back where I come from. I am rebelling, I want to align myself with a bigger identity of Africa. I dig deeper into other cultures in Africa. I want to know of Africa as a whole," he says.
Kayem brings out the connection between black people and the sun in 'In Son of the Sun' where he shows that black people feed from the sun, which has a lot of benefits to melanin. 'Young People of Colour' is of the youth donned in lively attires and behind them are walls made of fabrics, depicting the young people as the building block.
'Highly Melanated' celebrates women, 'Arrival of the Cool' pays homage to international stars of African descent, and 'Items' parades traditional foods such as bananas, avocados and ack fruit.
The artist also adds his voice to the conversation on how the Blank Panther film is important to Africa in 'Blank Panther Here'. He hopes the audience who will interact with this exhibition that is open until December 8 will reflect on what their identities are as Africans.