Choral groups root for peace using song and dance online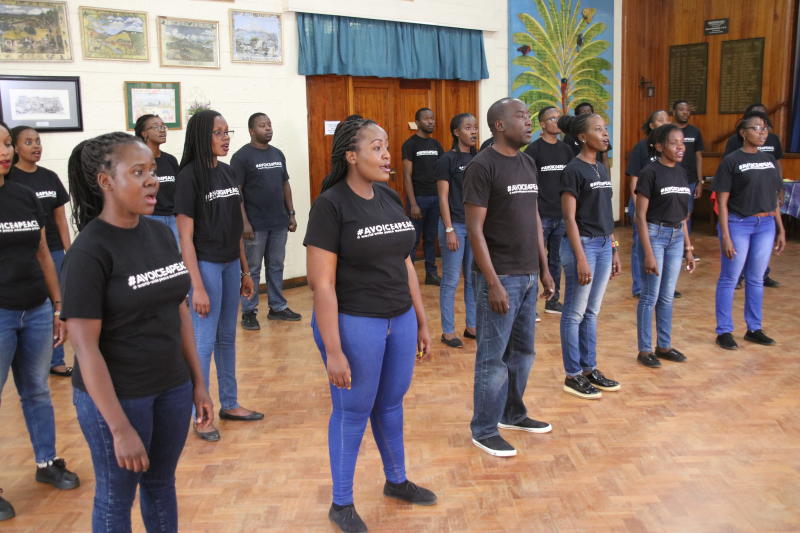 A group of choral groups from across the world converged in the cyberspace for a concert to celebrate peace through music and dance.
Under the umbrella of A Voice For Peace (Avoice4peace) movement, the groups met online for a performance whose main theme was peace building.
Led by the Nairobi Chamber Chorus, the groups streamed live their music in a magnificent global fiesta of peace.
Ken Wakia led the Nairobi Chamber Chorus in a performance of Meguru, a Namibian folk song on peace arranged by Russell Robinson.
"Lord, you are up there and we are down here. Have mercy on us and show us your love," they sang.
"At any given time, this world is better and as a humanity we gain more with peace than at war," Mr Wakia, who was recently awarded the Voices Achievers Award for his works in spreading peace using music, said.
In Mombasa, the Coast Chorus Music Academy sang 'Peace Is What the Children Need'. The song depicts a world at war that does not give the child a good environment to grow.
Women suffer and children are abused during war as combatants fight over resources.
"While we choose the ways of war, while the winds of war rage on, let mine "oh let my small voice" be a voice for peace," went another song by Dan Fagelberg.
Jobel Chorale sang Ukuthula, a Zulu song that calls for all people of goodwill to rise to the occasion and embrace peace.
The Florida Festival singers hosted a full concert dubbed 'I Lift My Eyes' involving a number of choirs, among them University of Mississippi Concert Singers, Corro Rio, Fuento and Arroyo choirs.
A number of high school choirs from across the world also participated in the online concert.
Live stream
This year's event drew a large number of participation across the world as those with smartphones could easily record their songs and stream them live or upload them on the movement's website and social media pages.
"Now, more than ever, we're in need of peace. Happy World Peace Day to you all," read a statement from Avoice4peace.
Avoice4peace was founded by Wakia and American Choral Directors Association's Kevin Fenton.