National music festivals kicks off at Kabarak with performance from nursery school kids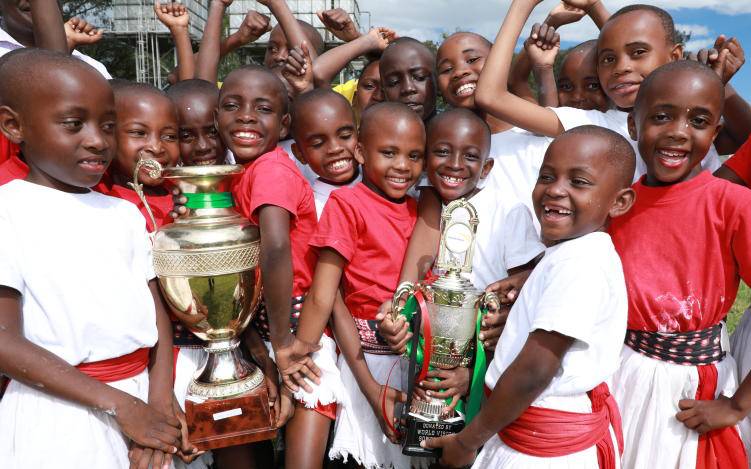 Pomp and colour characterised the Kenya National Music Festivals with early childhood learners showcasing skills that captured the Competency Based Curriculum, blending in rich traditional and Western childhood plays in singing games and traditional dances.
However, the 93rd Kenya Music festivals kicked off late as a result of traffic snarl up experienced at Gilgil along Nairobi-Nakuru Highway that saw most participants caught in the 12-hour traffic jam.
Music festivals Executive Secretary Ruth Asega said most performances had to be delayed for hours as a result.
The Music Festivals started off with Early childhood education learners, primary, special need schools and teachers training colleges taking the stage.
In captivating presentations by the early childhood, the learners tactfully brought to life traditional playing instruments and rendered rich set pieces while throwing in different dancing styles to colour the performances.
And while displaying the creativity advocated for in the new curriculum, the learners showcased creativity in designing costumes to fit in the African traditional cultural dances by incorporating costumes made from sisal robes, hats from carton boxes, children toys out of banana leaves among others.
St Peters ECD Mumias incorporated cooking pots and children toys made from dried banana leaves while Kids Star Academy brought vitenges to colour as they performed a Luo children song under the singing games category.
Umoja Primary School from Nairobi brought to life traditional children games incorporating slings, feeding baby dolls from guards and grinding maize flour using stones and tactfully balancing pots on their heads.
And while ECD learners from Mwea used fly whisks made out of sticks and strings, learners from Carol Academy had shades of brown on their faces to blend their brown-beaded costumes.
Learners from special schools including Likoni and Thika schools for the Visually Impared performed the pieces well, manouvering tactfully in the stage.
The singing games category, the adjudicators observed, revealed that pre-schoolers had mastered artistic renditions. "The learners grasped the songs well, rendered them well, also incorporating costumes that depicted the moments," Dr Jackie Bulinda said. In the singing game categories, Mwea Primary School emerged winners under class 802G while Kids Star Academy came second and Carol Academy third. Under class 801H, Thika school for the Visually Impaired was ranked first while Thika School for the Visually Impaired was ranked second.
Performance of the East African Anthem performed by primary schools, the judges observed, was fairly performed with three quarters of schools that performed off the tune.
"East African Anthem is a sponsored item which performing schools sang fairly well. Most schools failed to observe the alertness while others were off key," Dr Bulinda said.