Students dwell on family themes at drama festival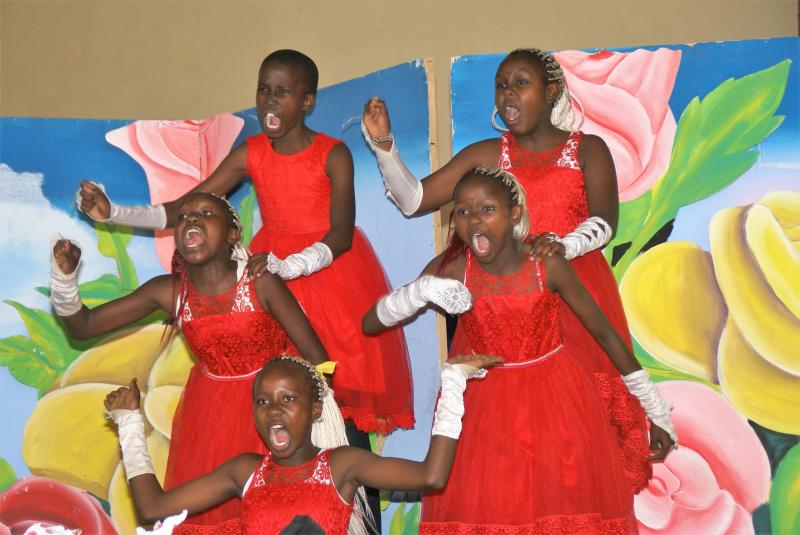 The Kenya Schools and Colleges Drama and Film Festival continues to thrill as more schools take the stage.
Yesterday, Lirhanda Girls High School thrilled the audience with their new style of choral verse presentation as they staged Tikitaka za Kichuguu.
The verse, scripted by Victor Achesa, Gideon Habwe and Foy Ongaya, depicts a society in need of good governance in its yearning for development.
Through its characters, the ants -- the major workers in an anthill -- are the most overworked yet most mistreated and frustrated by their leaders, the termites.
The queen ant serves as the voice of reason that ends the mistreatment by dethroning and ousting the rogue leaders. Produced by Mrs Linda Zalo, the Lirhanda Girls principal, the verse was directed by Brian Mutende and Patience Ochieng'.
Parenthood woes
Makueni School powerfully rendered the verse Tandabui on a litany of problems and challenges parenthood faces in modern day.
In the verse, a child wants to study and play, but the time and permission to do so does not exist.
When she is some little free time, her parents insist that she delves herself into books which they insist is the only way to success in life.
Directed by Fridah Mbithe, the synchronized vocals, paced rendition, clarity of words and the message in the verse were an indication that the Kenya Schools and Colleges Drama and Film Festival has come a long way.
Westlands Primary School's play, I See You, also featured a parenting message. Scripted by Hannington Ochieng, the play resonates with concerns of poor parenting, which is seen as a recipe for chaos in future.
It depicts a young boy Eric (Solomon Mburu) whose father Davis (John Mbui) is a doctor and does not believe in the value of co-curriculum activities.
Davis refuses to let his son to attend a school trip and makes sure he doesn't make the requisite contributions.
But his son has better ideas.
He feigns the illness of the father and use that to collect monies that he later uses to pay for the trip.
It becomes the trip of a kind, the best in his life, as he and his classmates tour the national park.
Depicting an individual with insatiable appetite for debts, Miritini Secondary School from the Coast thrilled with their choral verse Too Sweet.
The individual borrows money from every possible source, but faces the dire consequence of having to go a through bitter sweet process of bankruptcy.
S Chuba and F Wambui had a great time presenting the piece with a sparkle of humour.
Love triangle
Sticking to the family and society theme, Nanyuki High School made a big statement on the national stage when they presented a French play Le Pond Casse.
The play, written by Oliver Minishi, looks at a society with a myriad of social problems at the family level.
A father, who is also an international preacher, is married to a judge, meaning the preacher is hardly at home as he attends to his flock abroad.
The mother is left with their two daughters. One of them begins a relationship with a young man who has never experienced love because he was raised in a children's' home.
It is this love that erupts into a complex problem.
This mastery work from a veteran thespian was told in a simple storyline that even those who do not understand the language were able to follow.
Chavakali High School took the stage in the afternoon with the play Utandu Balaa directed by L Ateya, E Mwiluki and JK Warutere.
The play depicts a school wrought with indiscipline among students and teachers alike.
It is a bitter twist of tales of an illicit sexual relationship between a student and his teacher, Mama Riziki..
But it happens that the boy has a girlfriend in another school who happens to be Riziki, his teachers' daughter.
This love tringle unfortunately ends with the HIV/AIDS disease.