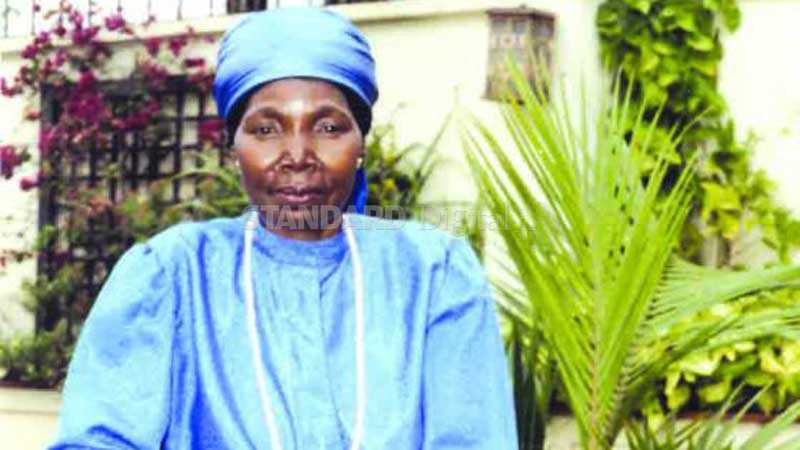 Grace Emily Akinyi Ogot, one of Kenya's greatest writers, continues to rock the literary world, three years after passing on.
Next weekend, three of her books published posthumously, will be launched by her husband, the celebrated History scholar and prolific author, Bethwell Allan Ogot, to add to a list of her great works.
Grace was in the process of publishing the books but died before she could do so.
Prof Ogot has invited his peers, novelists, literary scholars and readers across the country to his home in Gem, Yalla to launch Grace's three new novels in a ceremony that will also coincide with the third memorial of her death on March 18, 2015.
Preparations for the occasion have started in earnest, and Grace's gigantic mausoleum has been spruced up. The couple's two-roomed library that boasts over 10,000 epic titles has been laid out with Prof Ogot's close supervision.
Prof Ogot, a legendary scholar and an author of 39 bestselling history books was upbeat about his late wife's big day.
"Everything is ready. We will be marking the third anniversary of the late Hon Grace Emily Akinyi Ogot. We will also launch Grace's three new novels posthumously," Prof Ogot told Sunday Standard, yesterday.
Grace's new novels to be launched next Saturday are - "Simbi Nyaima - the Lake that Sank", "The Royal Bead" and "Princess Nyilaak."
Prof Ogot has already printed a coloured catalogue of the three books, which are all printed by Kisumu-based Anyange Press.
The books are some of Mrs Ogot's best pieces of literature, which she penned before she died. The flowing tales of the titles confirms Grace as one of the greatest story tellers in the country.
"Simbi Nyaima- The Lake that sank" was originally written in Dholuo. Actually, it was Grace's second novel in Dholuo after "Miaha" (The Strange bride). The book, written in rich but simple English tells the story of Lake Simbi Nyaima, a strange lake in Karachuonyo whose origin has been mired in deep myth.
The myth that has been told to successive generations is that a sprawling village that sat next to a much smaller lake in Kanyadhiang, became part of the water body after it sank.
According to Grace, the sinking of the lake was punishment for the villagers' arrogant refusal to shelter an elderly, hungry and haggard woman from a different village. The lake remains mysterious today and is a big tourist attraction.
Grace breathes life into the myth by weaving onto the traditional moral tale that cautions against inhuman behaviour.
The other novel, "The Royal Bead," is an equally a great read. It is based on the famous Luo legend of migration. The story begins sometime in the 10th century at Winam Settlement in present-day Northen Uganda and is woven across the path to the present Luo settlement.
Then there is "Princess Nyilak," an exciting story of a unique Luo princess; born and brought up against all odds. She is meant to be heir to her father's throne. Grace's other titles include: "The Promised Land, The Strange Bride, The Graduate, The other Woman, The Islands of Tears and Land without Thunder.
The late Grace was born on May 15, 1930 in Asembo. She married Prof Ogot in 1959.
Grace had a colourful career and worked as a nurse, journalist, member of Parliament.
She made history by becoming the first Anglophone female Kenyan writer to have her books published. She was once a reporter with the British Broadcasting Corporation (BBC).
Grace served as MP for Gem for two terms - between 1985 and 1992 - before losing the seat to the late Oki Ooko Ombaka. She also served as assistant minister for culture during former President Daniel arap Moi's government.
In her heydays, Grace was a committed defender of women's rights, who spent most of her time fighting for the less privileged in the village.