Publishers and authors must do more to spur creativity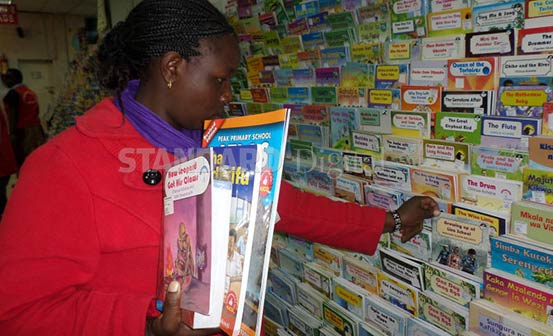 Relations between publishers and authors on one hand and authors and State have been marked by mutual suspicion.
The authors, even those whose manuscripts have never been rejected, think publishers are a mean-spirited lot. Yes, they employ bespectacled editors who, caged in thickly carpeted offices, reject manuscripts before they have completed reading them.
In my past incarnation as a publishing editor, I was appalled at the patience and discipline of the so-called established writers.
The Ngugis, Imbugas and Marjories painstakingly took time to revise their scripts to conform to reports prepared by manuscript assessors and literary advisers.
I, however, noticed new writers want a 'chap chap' arrangement, where you must publish whatever they bring to you.
One even walked into my boss's office to 'reject' a rejection slip the publishing firm had sent him.
The publishers, on their part, blame the State for all that is wrong in the industry.
From delayed free primary education cash, punitive taxes on books, to the inability or unwillingness to end piracy, publishers blame the State for publishing only a small number of novels or novellas.
When books are published, such literary works cleverly target the traditional school books market.
As someone who has been published by different publishers, and who has worked as a publishing editor, I have noticed some not-so-hidden truths about the sins committed by authors, publishers and the State.
First, the State. When the Kibaki government reviewed the education curriculum in in 2003, publishers, many of who only kept skeleton staff to publish a few copies of books periodically, were flooded with new business opportunities.
They published textbooks in the first three years, then before the ink could dry on the pay cheque, the bigger ones were already cashing in on revision books.
In 2010, with the market saturated with textbooks and with rumours that the State was about to review the curriculum, business slowed down. The cash from textbooks was not as much as it was in, say, 2006. So the publishers had to get creative in deciding what to publish. But generally the taps were being reduced to a trickle. The mistake most publishers who benefited from the school boom made was that they assumed the party would last forever.
Instead of investing in general books, whose stocks move slowly but steadily, most used the cash from textbooks to expand in a way that made their overheads shoot through the roof.
The worst part is that some of those who got the highest share of the textbooks billions did not even see the need to give back to society by publishing cultural works. Actually, it is mostly the struggling firms that churn out more novels, plays and poetry books. Some multinationals and other big publishers, pocket billions of shillings but don't publish novels even as part of their corporate social responsibility.
Struggling firms
There are those who argue that publishers have also over-relied on textbooks. The argument is that the stock on general book don't move fast enough. Yet no one has set up a commercial publishing wing. Such a wing could, for instance, publish only those who foot the editorial and printing bills.
Then proceeds from such a venture could perhaps help publishers not turn down top-rate scripts because 'there is no money'. So much so that even if I had a good script and the money to produce it, I'd have to look elsewhere. Again, have they done enough research to inform the conclusion that there is no money outside the school market?
In 2003, it was almost gospel truth that a novel or novella couldn't sell more than 5,000 copies in a year unless it was a set book. Seven years later, we put together a team of editors, designers and artists. The team then boarded a small car and we went to eight provinces asking people what kind of books they would buy. We were shocked at the kind of feedback we received.
The market was huge. The boss put his foot down and we used the 'ridiculous' feedback to come up with what we thought were 'weird' novellas. For the first time I saw a non-textbook, and a weird one at that, push 18,000 copies in its second year. The lesson, trust in and invest in research. Feedback from the market is never 'ridiculous'. Editors in sleek suits sitting pretty in city offices and purporting to know what readers in Kiandutu want to read is what is ridiculous.
The writers are also not without blame. Most of them hurriedly hammer out manuscripts and push them to publishers. When they are rejected, they resort to grumbling that local publishers only publish established writers.
When asked to rewrite sections of their works, they gloss over it and any quality-conscious editor has no option but to reject such works. Sorry to say this, but some exhibit so much passion for writing when they pitch for their storyline in a commissioning editor's office. Yet when you read the script you realise that the writers don't read much. Writers must read widely.
For it is in reading that you get insights into masterful plot strategies, not to mention language use.
In our case, English and Swahili, which we mostly write in, are not our first language. Which means an aspiring writer of general fiction who does not read much is largely beyond salvage.
Benchmarking
Perhaps it is the state that should take the flak for lack of a vibrant literary culture. One, we simply have no book policy. There is no legal framework to strengthen the industry.
Where in the West publishers rely on book agents as a source of good scripts, here we expect editors buried under poorly-written textbooks to plough through hundreds of scripts. What's more, we expect them to select the best scripts and rewrite them to Nobel Prize quality. Tough luck!
The State also needs to invest in creativity. How about sponsoring an annual competition where the best writers are published, perhaps by the existing State publishing firms? Wouldn't this be a good move that uses public cash to help identify and nurture literary talent.
I say this because given the poverty levels, especially in rural Kenya, talented fiction writers may never be discovered as they are probably struggling to get their next meal, even after penning a great script that gathers dust for years on end.
How about cracking down on piracy, which robs authors of the fruits of their intellectual labour.
And yes, how about better funding for universities to enable them invest in high-quality literary journals. For it is high quality journals that stoke the flames of literary debate.
How about benchmarking with Research in African Literatures, published at Indiana university in the US. Come to think it, isn't it a shame that the best literary journals that spur debate on African literatures are published offshore?
Yes, we in the media perhaps are also to blame. Do we review books often enough to inform the readers on who has written a new book? Could that also be a contributing factor to the lack of vibrant literary debate?
Jihadi brides plead to new terrorism charges
Four women accused of links to Al Shabaab pleaded not guilty to new charges of conspiracy to commit terrorism. Maryam Said Aboud, Khadija Abdulkadir Abubakar, Ummul Khayr Sadir Abdalla and Halima Adan Ali who were arrested last year are already facing a charge of being members of the terrorist group. They were freed on bond yesterday, but never left prison after the State pressed new charges. Senior Principal Magistrate Simon Rotich overruled a preliminary objection filed by the defence opposing the four girls from taking plea to the new charges.