50 years later, we still cannot face our children and whisper, 'Weep Not, Child'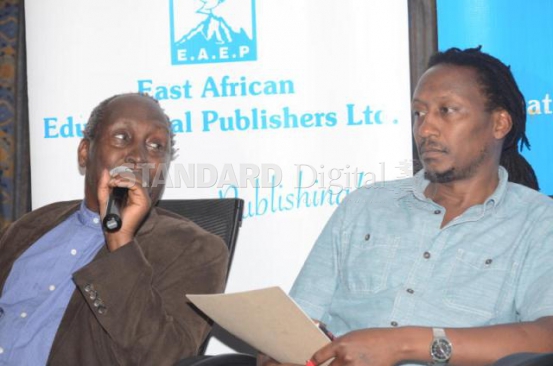 Weep Not Child was published in 1964, a year before I was born. I have a special relationship to it, not only because my father wrote it but because of the images it conjures every time I hear the title, Weep Not, Child.
When I first read the novel I remember seeing my grandmother, Wanjiku wa Thiong'o, in the opening:
"Nyokabi called him. She was a small black woman with a bold but grave face. One could tell by her small eyes full of life and warmth that she had once been beautiful. But time and bad conditions do not favour beauty."
My grandmother was a small woman with an infectious smile. She took pride in her work, tending her small garden, and her many grandchildren. But what I remember most about her was her roasted potatoes − and her stories.
Weep Not, Child. There is something magical about the title. It is reassuring. It affirms.
Later on, when I read the book as a young adult, the images in the book take me back to a time and a place. I am up early. The sounds of morning come lazily at first as I watch the mist rise from the ground. And as if on cue, the sun emerges from behind the hills.
We have a long walk ahead of us but I am thrilled.
My paternal grandmother, Wanjiku wa Thiong'o walks ahead of me. Her bare feet seem to float on the dusty path leading from Kinyogori to Kamirithu. We are going to visit Wallace Mwangi, my father's brother and a former Mau Mau freedom fighter. I am named after him. He is an amazing storyteller and I cannot wait to hear him tell how he dodged enemy bullets during the struggle for freedom.
But for now I have to keep up with my grandmother. We walk down what appears a valley and she stops. I catch up and stand beside her. I notice I am almost as tall as she is.
"Cucu, nikii?" I ask, concerned.
At ten or eleven, I scare easily but she places a trembling hand on my shoulder. It is both warm and reassuring. I look at her face and notice the furrowed look of sadness. But her eyes seem to have a fire in them and so I follow her gaze.
"You see this trench, all of it? We dug with our bare hands, forced by the wazungu!"
She stops to look at her calloused hands and after a little while she continues.
"All these, after they put us in Kamirithu concentration camp!"
She sucks on her few remaining teeth and spits on the ground defiantly and, I imagine, cursing the white man. She does not say any more and we begin to walk again in complete silence.
Cucu has many stories to tell and usually does so with that signature smile on her lips. I have heard them, most of them anyway and I know there is more she tells to older listeners when she thinks I am well far from earshot. However, I am nosy, inquisitive and always getting into old-folk business.
This silence, however, tells me there is more than meets the eye. There is a sense of loss, betrayal or something to that nature. I cannot place my finger on it but I feel it.
I secretly hope she does not think I am too young to understand. I am ten or eleven going on to twelve after all!
We make it to my uncle's house − Good Wallace as they call him. He will give you the shirt on his back if you need it. That is why they call him Good Wallace.
I cannot wait to be regaled with his feats of heroism. I like stories and though I am too young to understand the historical or even emotional context of some of them − like what it must be like to not know where your son or daughter is during the State of Emergency in Kenya and the height of the Mau Mau resistance.
Good Wallace and his wife Charity − a bubbly woman who loves hugging me and who, I would learn later had herself been incarcerated for being involved in the struggle, welcome me.
"Haiya, muthuri wakwa ukahaha" (Ok, my husband come here). She embraces me tightly and for a minute, I cannot see my grandmother.
After I come up for air, Good Wallace shakes my hand. His eyes dance with pride. His grip is strong and I imagine him fighting all those British chaps back to kingdom come. I smile as I float into a world of fantasy.
I am now Dedan Kimathi. I dodge two bullets and with lighting speed, I kick two azungu where the sun does not shine and they fall. I have freed my people....
"Hey son!"Good Wallace calls. "Come, we have some work to do."
I stop fantasizing and we walk to a storage shed where he has kept the recent harvest of maize from his half-acre piece of land.
I look at him and wonder what he must think. Surely, he must be a hero, but don't heroes usually have some sort of recognition? Would he fight the wazungu again?
As if he can read my mind he smiles and says yes! He would do it all over again and he grabs my shoulders with both hands and then embraces me. His hug is warm and full of life.
I ask him whether he had met Dedan. He smiles again. He says no, and I am disappointed. But he does something else. He begins to narrate how he and a couple of his comrades were ambushed at Limuru and how they managed to escape.
He tells me how our family was dispossessed of our ancestral land and how he imagined, his brother, (my father) must have felt when he returned home from the first semester at Alliance High School and found an empty compound.
I remember my father telling us this story − of coming home to a vast nothingness. I see the silhouette of a lonesome boy standing in what not too long ago had been a boisterous compound full of life. It is an image that remains etched in my mind.
Good Wallace's voice quivers as he tells me that with independence those who had collaborated with the wazungu to undermine, rape, pillage and steal the land were never disposed of their ill-gotten gains. They were protected.
That those in concentration camps were never resettled on their own lands and were in fact ridiculed with slogans like "willing buyer, willing seller". "How were we supposed to buy our land back? With what?"
I detect anger and despondency. "I want to join the Mau Mau!" I declare.
He laughs aloud at my sudden declaration, puts his hand on mine and asks me to calm down. "It is a different fight now," he says, his eyes looking into the distance. It was a land issue then. It remains a land issue now.
As I grow older and wiser I wonder why Kenya cannot fulfill the dreams of our forefathers and foremothers − land for people, a land that provides sustenance, centres the body and quiets the soul. Land, I come to know, is also a reservoir of histories of survival, of struggle and of self-realisation − as individuals, family and most importantly as a vanguard of our sense of nationhood.
My grandmothers, Wanjiku wa Thiong'o, Mekatilili, Wangari Maathai, my fathers, Wallace Mwangi, Dedan Kimathi, Pio Gama Pinto, Che Guevera, Steve Biko whose feet dared to tread on this earth with reverence and ownership taught me that this is not the time to let up, but a time to push on. To push on so that one day I may tell my daughter, Nyambura; "Weep Not, Child!"
Ngugi's secret to becoming a great writer
Someone once said there could never be too much of a good thing. Prof Ngugi wa Thiong'o has travelled back to the US, yet he said much about writing while he was around for the last two weeks