You have been naughty: Day HIV test gave me chills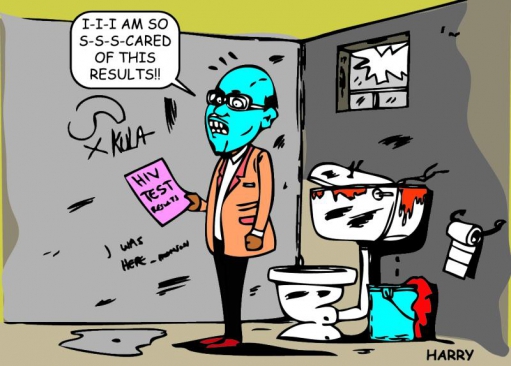 NAIROBI: It was love at first sight, when a full-blooded Ugandan man and a thoroughbred Ugandan woman met at a bar in the country's Mukono District. Apparently the place reputed to be rich in flora and fauna has a love charged atmosphere that no one has bothered to report before.
Otherwise how do you explain the haste with which one Kaigwa and Nansibuga tied the knot in record four hours after their initial encounter? In fact the two were in such a hurry that the HIV certificate was forgotten in the midst of their enthusiasm.
All reports about the two lovebirds in the press predict a happily-ever-after kind of marriage but I am a doubting Thomas. Where women are concerned, I can never be anything else but a skeptic.
That is because I have had the misfortune of tying my existence down to my wife Michelle for more than a decade and she has never once failed to disappoint.
My agony began right when we were tying the knot. Having fallen short of the glory of the Lord and sinned a few times, I secretly hoped that no one would inquire whether the bride and groom had been tested for HIV yet.
But her father insisted he could only give away his daughter after he saw my results. "This here groom has been sneezing since morning. He may be infected," the old man complained.
Michelle's face fell for secretly she also feared the test. Actually during those times, everybody feared to take the test as a positive result meant you might as well be dead.
Actually those in the know advised against the test claiming those who did not know their statuses were safe. "Kujua ndio muhadhara! After a positive result life expectancy dwindles to six month tops," they warned.
"Twende hospitali kesho first thing in the morning. We shall all be accompanying them," mzee decided.
I felt as though I was getting conned here. Why did they have to remember HIV testing only after all arrangements had been made? There was nowhere to hide.
Mzee noticed the cold sweat on my forehead and his doubts seemed justified. He kept his hawk eyes trained on me the rest of the evening. That is how he noticed I was not enjoying my beer as usual, plus the sneezing had become worse.
"There definitely is a problem with this chap," I bet he was thinking.
When I decided that dying in six years is one thing, but getting disgraced on the eve of my wedding was what I would not stand for.
I made up my mind that I would get tested before we did it amid the pomp of the ceremony to find out my status first.
I claimed I needed to head for town kiasi, "To buy my bride a special something she had earlier requested," I lied then hopped onto my jalopy.
At breakneck speed I headed to town. Then with a screech of breaks, parked outside Afya Centre.
A counsellor wanted to know whether I was taking the test because I had been naughty. "And you want me to believe you never heard the word condom in all your life?" she asked in contempt. I just sat there and trembled like jelly.
Them days we did not have this fanciful gadget that displays lines after ten minutes. They used to drain your veins dry for a series of tests. My eyes were almost popping out of their sockets when they mixed a portion of the blood with stuff that looked like detergent and shook the concoction. Bi Lab tech then lifted the sludge against the light, maybe to get a better view of the virus.
"Is my haemoglobin so dirty it requires washing first?" I asked her.
Instead of answering she led me outside and told me to wait. "I cannot be distracted. Lab tech would come out, look at me, shake her head and lock herself in again.
After what seemed like four hours of sheer torture, I was handed an envelope. I opened it in the toilet so I could flush myself away if necessary.
However, the word negative was the first I saw at the top of the slip. Believe me I was so happy I forgot to pay for the test. I just went and announced to Michelle's father that I was finally ready.
"Let go for the test," I announced, drunk with relief.
'Run For Your Wife', you cheater of a husband
If John had taken advantage of the polygamy law passed last year and legally married both his wives, Mary and Barbara, he would not have faced potential five year imprisonment for bigamy.