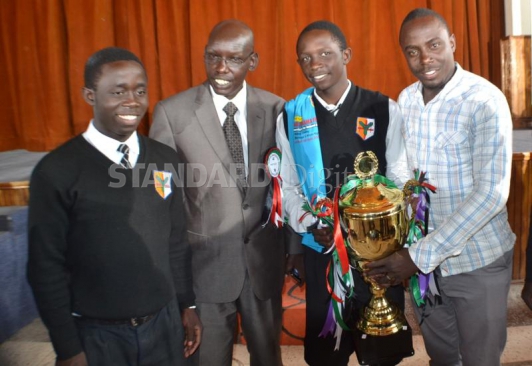 Winners of this year's Kenya Schools, Colleges and Universities National Drama Festival will perform before Deputy President William Ruto at a gala in Nakuru Friday.
Dagoretti High School will perform a Luhya cultural creative dance, Khakasa choreographed by Hudson Wafula and produced by Benjamin Ngahu.
Thika ECDE will then take to the stage with a singing game, Eating Healthy, and they will be followed by Chepsai Primary School who will present a narrative, Sina Makosa.
St Kizito ECDE's Syprose Atieno will then perform a solo rendition, Mwizi wa Mapenzi, after which Kyeni Girls High School will present a dance, Utonga Bwetu. A St Mary's School Yala duo will then take to the stage with a comedy titled Glocosuria. Asumbi TTC and Wajir High School will then perform Mambo Mambo and Masquarados respectively.
Shimo la Tewa Borstal Boys will then perform a verse Tabia Badiliko and Nembu Girls High School will take the stage with a modern dance style, Love Defined.
Booker Academy will then present another modern dance, ringing Bell, followed by the National Youth Service with a dance titled Blushes.
Nakuru Lions will then take the stage with the only play of the day, Changing Times directed by Lilian Madigo and produced by Phanuel Imbusi.
The festival Executive Secretary Patrick Sirengo will be the master of ceremonies in an event that will be beamed live on national television.
And as the festivals came to a close some schools retained their positions as others re-emerged from oblivion.
Best actors
Laiser Hill Academy sprung from a three-year slumber to emerge best in the plays category with, The Class of Grass, dethroning Riara Springs. Kakamega High School emerged second in this category for the second year running with Resuscitation directed by Oliver Minishi.
The Class of Grass depicts the ruling class disillusioned by avarice and the unending appetite to accumulate more wealth, leaving the masses in abject poverty. Bronix McCarthy and Sylvia Gachuhi led an impressive cast winning best actors' positions.
The school also went with a cash award of Sh50,000 from the Kenya National Union of Teachers (Knut).
"We are making this contribution in honour of Barnabas Kasigwa and will contribute for the best script in English every year," said Knut Secretary General Wilson Sossion.
Kaaga Girls were third with the play, Doors.
Dagoretti High School from Nairobi ably defended the cultural creative dance mantle with, Khakasa, a Luhya dance depicting a young engineer, Simiyu falling in love with a socialite to the chagrin of relatives.
The Standard art and culture writer George Orido was crowned this year's Cultural and Creative Artistes Welfare Association Journalist of the Year.