Artistes launch Music for all ages initiative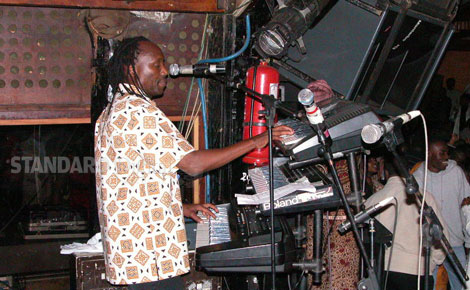 John Katana
An initiative that will bring together the youth and the elderly will be launched today and it is fronted by some of Kenya's foremost artistes from both generations, all in a bid to achieve the Millennium Development Goals, writes EMMANUEL MWENDWA
Kenyan music is expected to take centre-stage, against the backdrop of Action 2015 – the post MDGs (Millennium Development Goals) campaign officially launched in Nairobi yesterday. This global movement aims to inspire, mobilise, and empower marginalised communities to collectively tackle root causes of pressing social inequities.
At the core of its objectives is an enduring vision "for a world where all people are able to realise their rights, everyone is able to equally and freely participate in decisions that affect their lives and hold governments, international institutions, private sector, civil society and other power holders accountable".
Action/2015 essentially also provides a platform to stimulate dialogue between the young and elderly generations about the kind of world they want for the future. As its contribution to the campaign, local partners HelpAge International Kenya and the Organisation of African Youth came together and mooted a musical project bringing together well-known veteran and upcoming artistes.
"We were identified and approached among several established and young musicians, with the request to volunteer our time and skills in the campaign by composing a song whose collective message advocates for a world that is a better place for everyone," says John Katana, leader of the legendary Them Mushrooms band.
Mobilising tool
As the climax of the Action 2015 campaign in Kenya is a live performance and official unveiling of the campaign song, slated for Friday, January 23. The song will be used as a social mobilising tool as part of the campaign to create awareness and mobilise citizens across Kenya.
"We are honoured as a country and as artistes to be involved in this opportunity to tap into our creative muses in this global initiative seeking to bring together every world citizen to rally behind raising our voices today for the generations of tomorrow," remarks afro-fusion artiste Judith Bwire aka Mama Afrika.
Both Katana and Bwire are among the local musicians set to record the epic Kenya Action 2015 Campaign Song as a non-profit initiative.
Others include veteran composers John Nzenze, Teddy Kalanda, and rapper Dar Mjomba. An invitation was extended to several other popular names on the local gospel and secular showbiz scene, but many artistes reportedly turned down the offer or cited pressing commitments.
The artistes who are booked for the song-recording this morning at the GoDown Arts Centre-basedKetebul Studio, are being backed by Nairobi's four-piece Afro-Simba band members. These include Kombo 'Burns' Chokwe (guitarist), Maurice Kivisi (drums), Eddy Dena (bassist) and Walter Mwangombe (keyboard).
While veterans Nzenze and Kalanda will lend their mellow voices to the composition, Judith Bwire is expected to sing and also inject an indigenous flavour onto the campaign song as she strums the Luo eight-string nyatiti (kamba nane) tradition harp. Katana and Mjomba alongside Kalanda composed the song's lyrics.
Significantly, there is little doubt that the Kenyan musicians are privileged to be part and parcel of a global movement – united by a common belief that key post-Millennium Development Goals 2015 agenda decisions set to be ratified are critical for the future of all mankind.
Of note is the campaign's objective to raise awareness on key concerns affecting both the youth and our society's senior citizens in regard to participation, accountability, health and their well-being.
Act of patriotism
"We opted to bring these creative musicians on board this campaign not only as a selfless act of patriotism but also owing to their dedication to utilise individual musical skills to highlight the plight of the voiceless poor and marginalised, but to ensure they will never be forgotten beyond the 2015 MDGs agenda," notes Jamillah Mwanjisi, HelpAge Kenya's head of policy and campaigns.
According to statistical projections driving the Action/2015 movement, older people comprise an estimated 12 per cent of the global population. By 2030, more than one billion people will be aged over 60.
Furthermore, the opportunities and challenges of longer life expectancy bear the burden of consequences for young people now, who in 2050 will be part of the largest group of older people in history.
Some of these realities are mirrored in the lyrics of the song,
".. Kila leo twaambiwa sisi vijana ni viongozi wa kesho... Sera zote za kitaifa... wijana pia tuhu sishwe.. Ujana ni maua... kwa muda uchanu... Uzee si kilema... wahenga walisema..."
(Every day we are told that the youth are the leaders of tomorrow... all national policies, we should be involved (since) youth is like a flower which with time withers. Age is not disability, so said the sages).