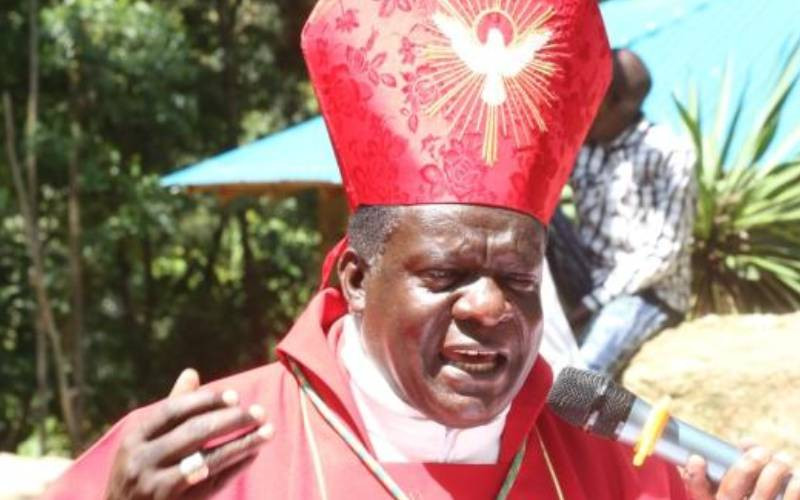 The Kenya Conference of Catholic Bishops has called on the Judiciary to adequately prepare to handle cases arising from the election process.
While delivering a speech on behalf of the Chairman of the Kenya Conference of Catholic Bishops The Reverend Martin Kivuva, Bishop Joseph Obanyi of the Catholic Diocese of Kakamega underscored the need for actors, including the Independent Electoral and Boundaries Commission (IEBC) and media to play their roles responsibly.
"We wish to call on the Judiciary to assure Kenyans that they are prepared to handle all emerging electoral cases with speed and fairness," said Bishop Obanyi.
He urged courts to discharge their mandate in a manner that would bring honour to disputing parties, adding that a good judicial system, being the final gatekeeper for justice and democratic rights, protects and gives space to democracy.
The cleric said fair and transparent ruling by the Judiciary would help build Kenyans' confidence in the institution's credibility. "We urge the Judiciary to set a time limit upon which all electoral cases should be resolved to avoid delayed justice for candidates and their supporters. It should conclude petitions in at least 100 days."
The bishops emphasised that the law should defend everyone especially the poor arguing that more often they see application of law enforcement and justice being played harshly on the poor voters caught engaging in violence while the real culprits who could be political actors go unpunished.
The cleric said: "Election preparedness goes beyond IEBC."
He urged media and the religious leaders to play their role faithfully during campaigns and election.
"Religious leaders should remain impartial for the sake of their followers who have divergent views and preferences. That will help maintain peace among our followers," Obanyi said.
He called for peaceful elections and urged the public to carefully elect leaders. Bishop Obanyi also advised voters to choose leaders with good manifestoes and avoid bribery.
Elsewhere in Murang'a, Catholic Bishop James Wainaina expressed displeasure with leaders over failure to castigate Roots Party presidential candidate George Wajackoyah's vow to legalise growing of bhang if elected.
The cleric said Prof Wajackoyah was unfit for election as president, as some of the issues he propagated could plunge the country in chaos.
Speaking at Kangari Catholic Church in Kigumo yesterday during celebrations to mark Family Day, Bishop Wainaina urged leaders to adhere to the Constitution, which demands election of leaders with good track record and morals.
"The proposal by the presidential candidate is unthinkable when the Church is fighting issues related to bhang. Bhang is listed as illegal substance by the United Nations, and should not be entertained in Kenya. It has been blamed for chaos witnessed in some of the families and learning institutions," said the prelate.