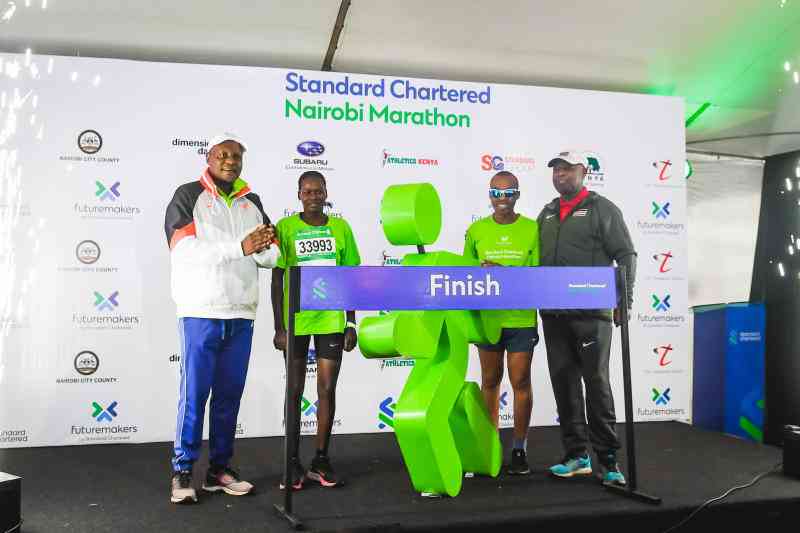 The 19th Standard Chartered Marathon run will be held at Uhuru Gardens, along Langáta Road in Nairobi, on October 30.
Yesterday, Standard Chartered Marathon top management and Athletics Kenya as well as sponsors launched the race at Nairobi Aboretum where more than 25,000 athletes are expected to take part.
"The marathon will be held on the Southern Bypass route. We target 15,000 athletes for the physical race and another 10,000 for the virtual run," said Peter Gitau, the marathon chairman.
The targeted numbers this season is more than those who took part in the competition last edition.
"Last year, we had 5,600 athletes taking part in the virtual run and 2,500 in the physical race due to the stringent covid-19 restrictions.
"We are glad to increase the numbers this season to accommodate more athletes," said Gitau.
The registration for the competition will be on up to October 16.
Gitau said they will work with Anti-Doping Agency of Kenya (Adak) and Athletics Kenya (AK) to ensure genuine athletes win the races and get awarded.
Jackson Tuwei, the AK President, said the federation will offer technical support.
"The Southern Bypass route is a great venue to hold the run because there minimal traffic," said Tuwei.
Tuwei praised the marathon organisers for remaining consistent for many years. "Kisumu and Mombasa marathons were discontinued but Standard Chartered Nairobi Marathon has been on since inception.
"The race set the pace for other 42km competitions like the Eldoret City Marathon, which will enter its fifth edition next year," Tuwei said.
Tuwei said AK's Memorandum of Understanding (MOU) with Stanchart Marathon has been improved over time to make the race more exciting.
"AK is the first federation in the world to sign a deal with World Athletics to promote conservation of environment, which is one of the key pillars that the Standard Chartered Nairobi Marathon champions.
"We are glad to be reading on the same page," said Tuwei.
While hailing the marathon for attaining its objectives since its inception in 2003, Deputy Sports Commissioner Jaxon Indakwa said the race's mission is in line with the Ministry of Sports goals.
"The marathon has helped in nurturing talents from the grassroots, establishing of other races and giving back to the society through its 'Seeing Is Believing' initiative.
"The race has attracted international athletes who have helped to market Kenya as a global tourist destination," said Indakwa.
Apart from the Standard Group PLC who are official media partners, other sponsors for the marathon include Subaru Kenya, AAR, Dimension Data, Nairobi County Government, Nairobi Aboretum, Tamarind Hotel and others.