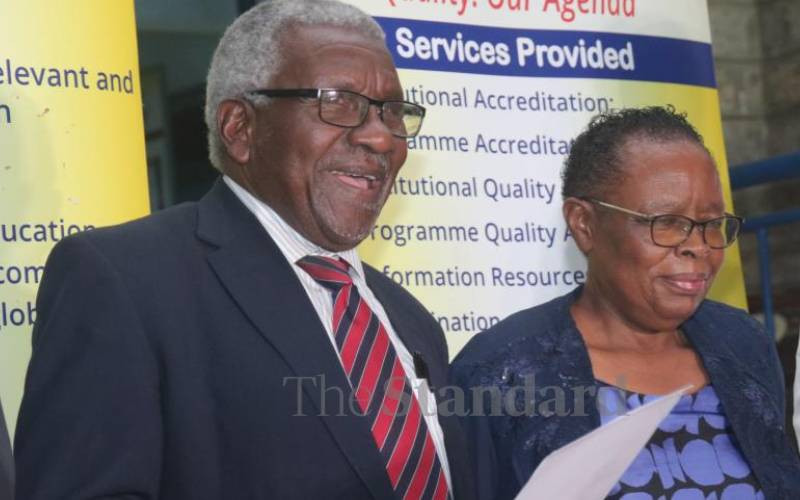 Controversy rages over who, between the Commission for University Education (CUE) and the Kenya National Qualification Authority of Kenya (KNQA) should verify degree certificates.
This comes months after CUE initiated a process that has put some aspirants to political offices on edge. Kenyans have been treated to a circus over the academic papers presented by some gubernatorial aspirants. In one instance, an aspirant's papers are accepted as genuine and the next they are rejected.
It doesn't help that the Independent Electoral and Boundaries Commission has given the green light to some aspirants whose papers are suspect, just because it does not have the power to determine the genuineness of degree certificates.
But while that holds true, it opens doors for litigation, now and after the elections. CUE and KNQA have clear mandates, which makes the confusion over the verification process unnecessary.
CUE was established under the Universities Act, No. 42 of 2012, as the successor to the Commission for Higher Education and mandated to regulate university education.
It also has power to grant authority to foreign universities seeking collaboration with local universities to offer degree programmes.
On the other hand, KNQA was set up in 2015 to coordinate and harmonise education, training, assessment and quality assurance of all qualifications awarded in the country. However, during debate in the National Assembly in January this year, MPs said KNQA's role to certify educational qualifications was illegal.
These mandates should be clearly interpreted to avoid duplication of work, inefficiencies and wastage of taxpayers' money.
Yet in the midst of the confusion over who is mandated to vet degrees, it should not be lost on us that the degree requirement for the offices of the president and governor must be strictly enforced.
Only those who have the right academic papers should be allowed to compete for political office and work in public offices to end the culture of cheating.