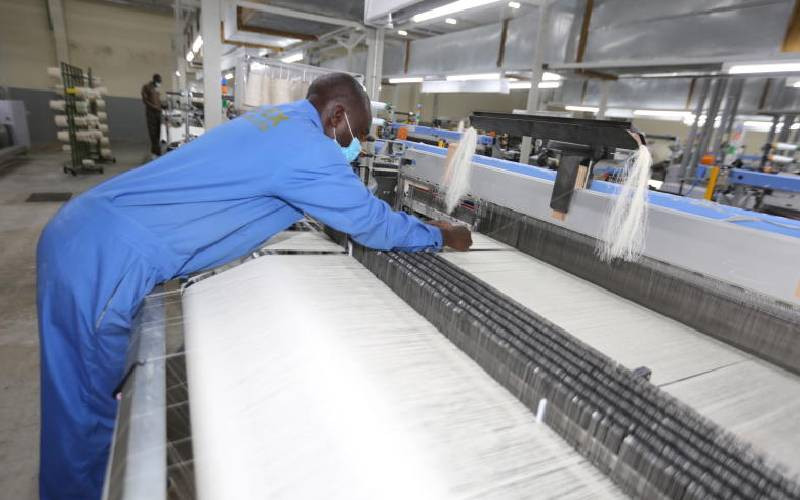 Shortage of raw materials is hampering the growth of the manufacturing sector, Government spokesperson Cyrus Oguna has said.
Manufacturing is one of the four pillars of President Uhuru Kenyatta's Big Four agenda. The other three are food security, affordable housing and affordable healthcare.
Oguna spoke during a visit on Tuesday to the Eldoret-based Rift Valley Textiles (Rivatex), one of the largest apparel companies.
According to the management, the company has, so far, not met its targets. And they blamed it on a lack of raw materials.
Oguna said the shortage of raw materials has become a challenge in most manufacturing firms, which directly depend on agricultural products.
The government spokesperson cited Covid-19 as the main reason farmers are having challenges in producing enough raw materials for the manufacturing sector.
"We all know that when Covid-19 hit us, everything came to a halt, factories like this which depend on direct produce from farmers had to slow down their operations in response to the scarcity of raw materials," he said.
Oguna, however, said the government had embraced other ways of sourcing raw materials to be used in industries like Rivatex whose operations directly impact the lives of people around them.
"We depend on international sources of raw materials to keep our industries running. There is a good supply of cotton internationally and that has enabled us to run industries efficiently," he stated.
According to him, due to a reduction in cotton production because of the Covid-19 effects, the government imported 49 billion pieces of apparel to be used at the Export Processing Zone (EPZ).
Rivatex General Manager Patrick Nyaga said they were working with county and national governments to help farmers get back on their feet after they took a hit from the effects of Covid-19.
"We have started issuing farmers in Kerio Valley with cotton seeds to help them get back to their farming activities.
"We hope by doing this we will eventually increase output in all our raw material sources," said Mr Nyaga.
The general manager called on farmers in cotton-growing areas across the country to intensify farming and take advantage of any new cotton varieties they might come across.
"There is a great opportunity in cotton farming and cotton value chain. Young people who are fresh from college should consider getting into farming rather than waiting for employment," he advised.