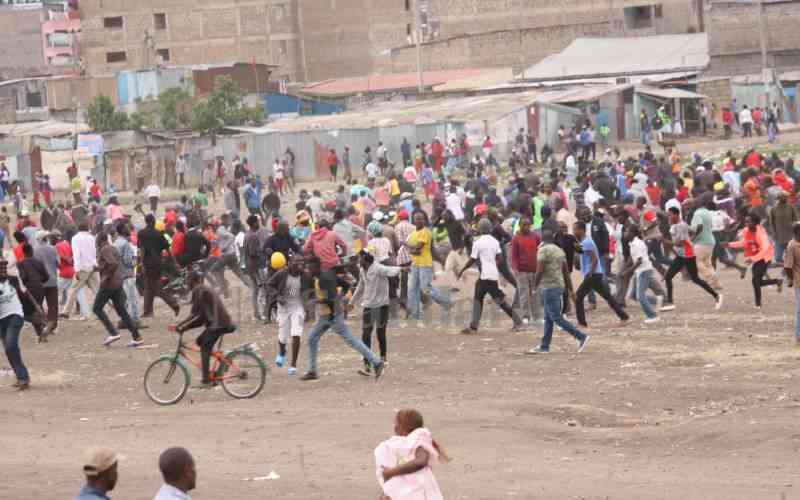 I recently wrote on this column that if we are going to have a peaceful electioneering period, we will need every political candidate to publicly declare their commitment to uphold peace. They must denounce any acts of violence, the alleged perpetrators notwithstanding.
When two rival camps clashed at the Jacaranda grounds the other day, the two factions went into defence mode with each blaming the other for the chaos that left people injured. It is really unfortunate that no political leader is willing to call their followers out for instigating violence, perhaps because the chaos is never accidental or unforeseen.
Besides causing unnecessary harm, every time chaos erupts, unusually heavy contingents of police officers have to be deployed to restore order, many times firing in the air and launching tear gas canisters to disperse the rogue protesters. This in itself is a waste of public resources, including time that the said officers could use in more necessary, productive work.
While politically-motivated chaos and subsequent blame games are nothing new, the youth are also largely to blame for allowing themselves to be misused by politicians for the latter's selfish gains. When will the youth learn that really, the ultimate losers are they themselves and never their political masters?
We can blame politicians all day but until the youth recognise that there are better ways to show support for their preferred candidates, we will be stuck in the cycle of ethno-political violence for many years. The youth need to know that the only divide between them is the one drawn by the political elite to make it easier for them to be manipulated to disturb peace.
There is no difference between a poor young person supporting Azimio and one supporting Kenya Kwanza, or any other political party for that matter. Joblessness does not manifest as any of the political divides. It manifests as lack of basic needs, lack of school fees for one's children and unpaid hospital bills. When the cost of basic commodities goes up and life becomes unbearable, it does for all the youth regardless of who they support.
They need to realise that the best of political leaders will not take charge of their responsibilities or pay their bills. They will need to work after the elections. The most a leader can do is provide a conducive environment for everyone to thrive, whether self-employed or otherwise. It is therefore foolish for any young person to go to war with their neighbour over political differences.
It is even more unfortunate that majority of the youth engaged in violence live in the slums and other poor neighbourhoods where they need each other even more. They seem not to have learnt from the many years of having to rely on each other for survival when times are tough and the politicians have settled into their offices to enjoy their lives.
Granted, life is hard and many youths need the few shillings they are paid to attend the political rallies, but they do not need to resort to bloodshed. In fact, most youths attend as many gatherings as they are paid to, and their presence is in no way indicative of their support or even intention to vote.
-Dr Kalangi is a communication trainer and consultant, Kenyatta University