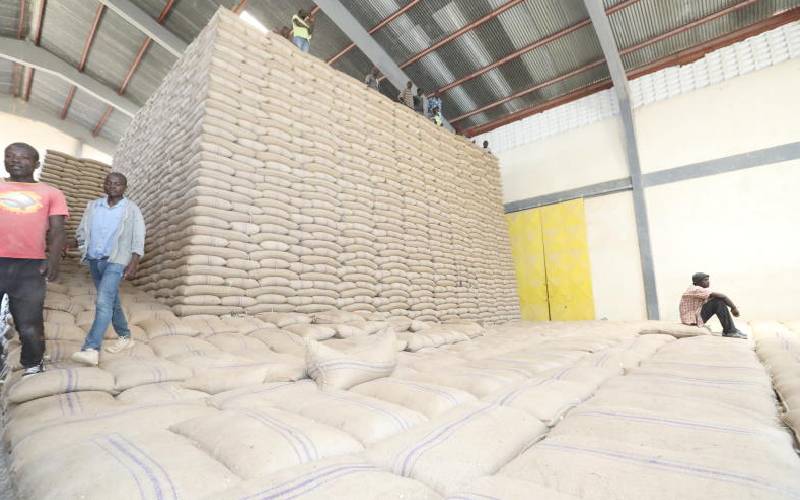 Residents are staring at an impending food crisis as the grain-producing North Rift region has run out of maize.
The country's strategic food reserve at the National Cereals and Produce Board (NCPB) has dried up, while most farmers have exhausted their stocks following recent improvements in market prices.
Families in the region are now struggling to put food on the table as a two-kilogramme tin of maize retails at between Sh140 and Sh160, while a 90kg bag goes for between Sh4,500 and Sh5,500.
Most small-scale millers have reportedly closed shop while big millers have little stock that will take them a few days, a scenario that could lead to a shortage of maize flour and result in a sharp rise in prices.
Maize producers and stakeholders in the sub-sector have urged the government to take urgent measures that would bridge the food deficit and also prevent a glut through excessive imports, about three months to the next harvest.
Large-scale farmers Thomas Boen, Tom Korgoren and Ruth Kemboi said local farmers don't have maize stocks and prices are on a daily upward trend for the scarce produce.
Boen said most farmers used low quantities of planting fertiliser, while top-dressing CAN is currently retailing at over Sh5,000.
Kemboi, who doubles up as Kenya National Farmers Federation (KNFF) Uasin Gishu branch chairperson, said most farmers offloaded their stocks over the past few weeks to procure inputs for wheat planting.
"Most farmers flocked millers to offload their stocks last week. The majority of them wanted to buy fertiliser for the ongoing wheat planting," said Kemboi.
But speaking to The Standard on the phone, Kipng'etich Mutai, the chairman of Grain Belt Millers Association, said maize is not available and small-scale millers are already closing shop.
"Small-scale millers are closing while large-scale ones have stocks that could take them for the next 10 days or two weeks. Operations will be affected because imported maize at the port of Mombasa is expensive," said Mutai.
He expressed fears that maize flour could hit Sh195 per 2kg packet.
Mutai said that although the government allowed duty-free import of maize, millers have not purchased the products saying Sh6,000 at Mombasa is too high.
Kipkorir Menjo, Kenya Farmer's Association (KFA) director, said the maize shortage is 'serious' noting the government should strive to get supplies to bridge the shortage.