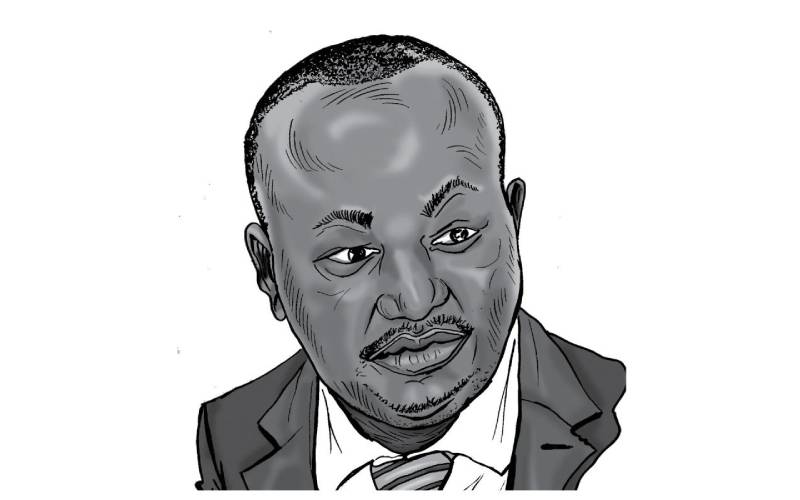 I cannot say how it felt when I walked into then Editorial Director Wachira Waruru's office in 2002, trembling.
"How you could allow such bilge into your newspaper is frightening. It was a tragic example of how not to."
In my hand was a piece of paper that his personal assistant had printed of the reactions from the readers. I cannot recall but I think WW (as he was fondly known then) received all editorial emails. I am not sure.
The reaction to my first writing was overwhelmingly critical and I thought too, unfair. My writing was not mediocre in any way or lacked any serious argument… a writing for the sake of it. Rainbow excitement ignores the real issues (Tuesday, October 29, 2002) … was a thoughtful piece that questioned the excitement about the Yote yawezekana bila Moi and Moi must go chorus. "Today's politician, I wrote, "must move away from the rhetoric of man-on-the-street appeasement to what really matters… to still talk and embrace Yote yawezekana bila Moi when we know he is leaving anyway and little else is to miss the point."
Twenty years later, I think history has proved me right. My reader thought I was sulking about Kanu's imminent loss.
"When you write, you invite criticism and people like it when they can pin you down at times for no reason other than because your thoughts don't agree with theirs," WW (now the CEO of Royal Media Services) told me then. He was right.
The role of journalists and media is coming into sharp focus as we head into the homestretch of the August General Election. The beef from the Kenya Kwanza brigade should not be looked at in isolation. Media is usually the fall guy when things don't well with the political groupings.
Our call to serve public interest is motivated by a mixture of interest, compassion, desperation for truth. Make no mistake, we love our country no less than the political class. Yet the truth is, media cannot be an alternative government, neither is it an alternative opposition. Besides offering a voice to these competing forces, it moderates the relationship between the leaders and the led.
By and large, media remains a public good performed out of conviction to change the way things are and nothing else. And that causes great discomfort. Napoleon Bonaparte knew this truth when he remarked that "Four hostile newspapers are more to be feared than 1,000 bayonets."
Media helps voters make informed choices because it allows information to flow freely. Democracy thrives when ideas and information spreads around freely.
Media holds to the fire the feet of the mighty and powerful. It exposes corruption and, to a large extent, deters abuses. It has provided a bulwark against an overbearing Executive and stood up against roguish politicians and power-drunk bureaucrats.
Jubilee takes the distinction for its efforts to tame, cripple and then silence free press from 2013.
Fred Matiang'i – my former literature professor at UoN- as the ICT minister unleashed the Government Advertising Agency on us; a cynical, (and obviously counterproductive) attempt to rearrange the media landscape in a bid to extract as much favour from the Fourth Estate as possible. And as expected, that hasn't gone down well.
Fawning media outlets would be lavished with advertising. The "favour" was withdrawn from the critical ones. Individually, journalists faced a barrage of attacks from zealous internet trolls and the so-called digital warriors. Now, good journalism - all that muck-raking - costs a fortune. It is undermined by ruinous legal costs and malevolent State agents. But that is not to excuse the occasional sloppy, pedestrian, run-of-the-mill, hatchet jobs that slips through the cracks. Not at all.
Singapore's foremost leader Lee Kuan Yew "wanted to have the national media cake and eat it too" Cherian George says in Freedom from the Press. He wanted a press that could "report, interpret and analyse" his development schemes and plans and to some extent, the news- "like the best in most developed and freest countries."
"An unthinking press is not good for Singapore," said Mr Lee's successor Goh Chok Tong. In Singapore, its leaders "domesticated" the press: They fed and groomed the beast, knowing too well they would need it someday.
Were we to lose media, who will speak for Wanjiku? Certainly not the shifty, self-absorbed, self-preserving political class; certainly not the cowed civil society smarting from a vicious State-sponsored crackdown. Killing the press is to invite demagoguery. A worse alternative by all accounts.
Mr Kipkemboi is Partnerships and Special Projects Editor, Standard Group