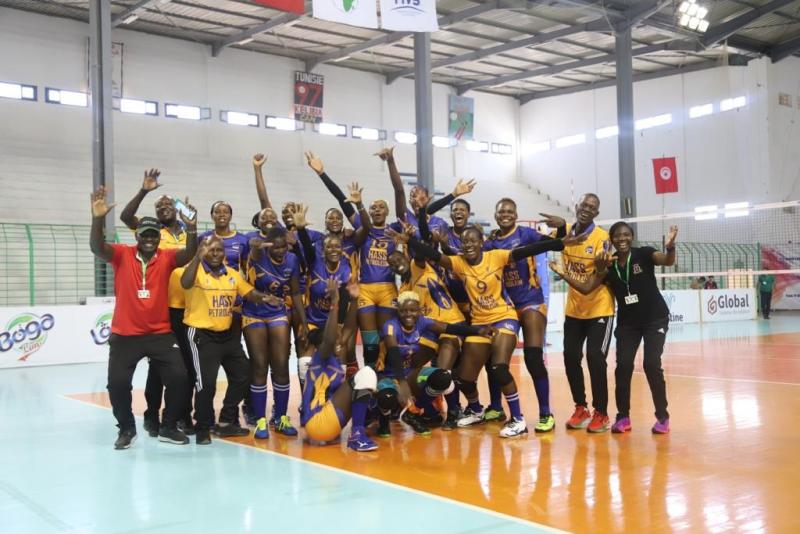 It was dance and joy as five-time African Women's Club Championship winners Prisons Kenya laid down the marker after qualifying for the pre-quarterfinals of the ongoing competition in Kelibia, Tunisia with an unbeaten record.
But it wasn't a walk in the park for the wardresses as they had to twice come from behind to edge out a resilient APR 25-20, 25-20 and 25-20 at Aissa Bennaceur court to finish top of Group C yesterday.
Having trounced National Alcohol and Liquor (Ethiopia) and Chief Naval of Nigeria by an identical scoreline of 3-0, head coach Josp Barasa's celebration that saw him pump his fist in the air as the players danced on the court summed up the importance of the victory.
Barasa showed his tactical prowess by bringing in experienced setter Yvonne Wavinya for Meldina Sande and Pamela Masaisai to silence the Rwandese side.
"I'm a happy man today because the girls played very well in our final group against APR. We came twice from behind to win the sets and that's because of our mental strength and the tactical substitution we made," said a jubilant Barasa.
"Honestly, it's the substitutions that won us the game; Wavinya and Masaisai brought us back into the match. We are looking forward to an exciting pre-quarters game against the runner up in Group A. Our target still remains the same; to win the title, but that will start with the round of 16. There are no favourites in the knockout stage, but we are determined to restore our lost glory."
Barasa's sentiments were echoed by his seasoned captain Braxcides Agala, who said: "I'm proud of the ladies' performance. We showed character and won it with straight sets to finish top of the group. We hope to do well in the round of 16 and continue with the same rhythm up to the final. Our ultimate goal is to go back home with the trophy."
A few hours later, wounded KCB Bank bounced back in style to register an impressive 3-0 (22-25, 10-25,16-25) victory over Group B opponents Ndejje University Volleyball Elites of Uganda.
The win put Japheth Munala's side in pole position to progress the round of 16. KCB beat Mimosa of Ivory Coast 3-0 (25-13, 25-12, 25-10) in their first match on Sunday.
It was the type of response the bankers captain Edith Wisa wanted after their 3-1 (20-25, 17-25, 25-13, 14-25) defeat to hosts and defending champions Carthage Club on Monday.
"Of course we expected a tough match on Monday because we knew we were meeting the defending champions and they also had a home advantage. It was nice to play them at the group stage for us to know what to expect in the next stages and how prepared we are against tough opponents," said Wisa.
Though Kenya Pipeline made a brilliant start to the tournament after winning their opening two Group D matches against Customs of Nigeria and El Wak of Ghana, coach Paul Gitau feels the Al Ahly fixture will gauge their title credentials.
The Embakasi-based outfit was due to clash with the Egyptian giants last evening.
"We are still focused and ready to make our country proud. I'm pleased with our good start to the tournament. I have not yet watched all the teams play, but I believe our game against Al Ahly will determine our destiny in the tournament," said Gitau.