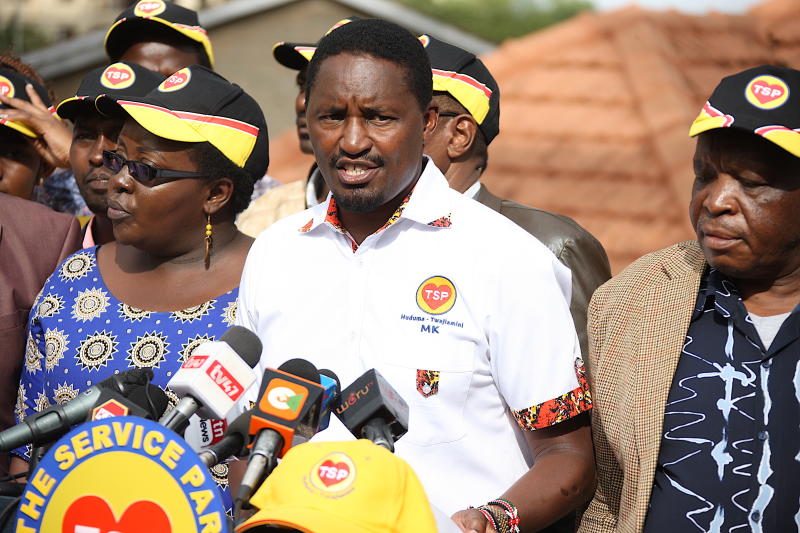 The Service Party leader Mwangi Kiunjuri has asked Kenya Kwanza leaders to stop creating unnecessary infighting.
Mr Kiunjuri noted that Kenya Kwanza affiliate parties were equal partners and should be treated with decorum. He said the parties should work in unison towards delivering victory to their flag-bearer Deputy President William Ruto.
Speaking after a meeting with aspirants for various elective seats, the TSP leader appealed to Kenya Kwanza affiliate parties to accommodate each other, saying fielding different aspirants from the coalition doesn't mean infighting but a healthy competition.
"TSP aspirants are aware and acknowledge that we are in competition not only with our sisters and brothers in Kenya Kwanza Alliance but with all other aspirants seeking the same seat as we are. A vibrant democracy is enriched by intra-competition within the alliance and the rest of the competitors particularly in this election," said Kiunjuri.
He warned that TSP would take head-on leaders campaigning for six-piece voting pattern.
"Common sense dictates we have to work as a team, I will be a master of deceit, a hypocrite if I go out as a leader in a high ranking party or a coalition holding someone's hand in the campaign. There is a level you reach you have to tame yourself. Don't fight your juniors. If any one tells us to support a certain party, as a party we will take him head on," he said.
The TSP leader appealed to Kenya Kwanza affiliate parties not to fight each other but to know their common competitor.
"We have a worthy opponent in Azimio and should therefore devote our time, energy and concentration towards them rather than fighting each other. As we say, a house divided risks falling apart," said Kiunjuri.
He further noted that time for zoning was long gone and dismissed those who feel certain regions were reserved for particular parties or individuals.
He said TSP would start campaigning separately countrywide for Dr Ruto.
"As much as we are in Kenya Kwanza, we are independent parties and we can make our own decisions. As a sign of goodwill, we have resolved to complement the efforts by rolling out a 30 day campaign programme across the country in support of our presidential candidate. We welcome other like-minded affiliate parties," he said.