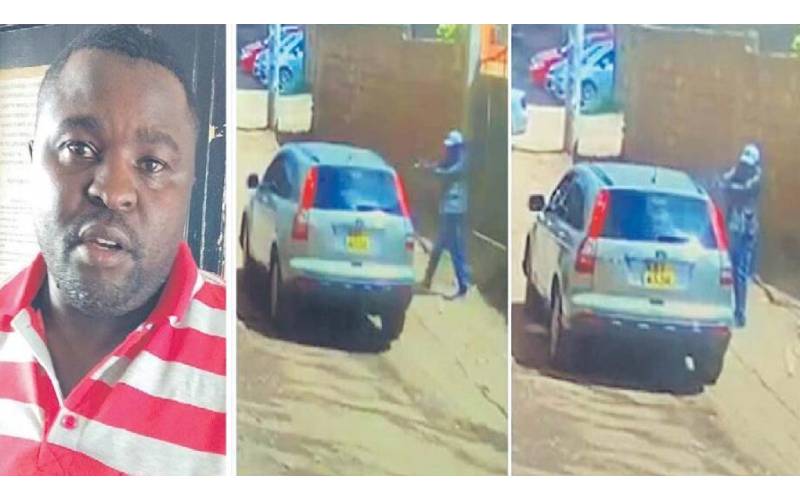 Two women claiming to be wives of a 40-year-old man who was shot dead by a lone gunman on Mirema Drive in Nairobi on May 16, have recorded statements with the police.
Anne Wanja, 32, a resident of Nairobi's Kahawa Wendani estate recorded her statement on Monday.
On Saturday, 28-year-old Salome Wairimu of Githurai 45 estate also recorded her statement with Kasarani DCI officers.
The two women claimed they were married to Samuel Mugota and were summoned by the police to record statements after investigators discovered there was frequent communication between them and Mugota.
Ms Wairimu told investigators that she met Mugota in March this year. They fell in love and that marked the start of their romantic relationship.
She said Mugota told her he was a government officer working at the Ministry of Livestock in Nairobi. Wairimu operates a mobile money shop in Githurai 44 estate.
She said Mugota was kind and to show his love and commitment, he paid her house rent for a whole year and also used to send money for upkeep.
Mugota however only visited the house twice and did not spend the night. She told investigators that she used to speak to Mugota on phone and that he had promised to visit once he returned from an official trip. Ms Wairimu said she was shocked when she saw pictures of Mugota in the media after he was gunned down.
She told investigators that she did not ascertain if Mugota was a government official as he had claimed.
Ms Wanja told investigators that she met Mugota two years ago at an entertainment joint in Nairobi and that he introduced himself as a motor vehicle dealer in Nairobi.
She told investigators that Mugota said he was unmarried.
They started dating and Mugota took over several responsibilities including paying rent and school fees for her child.
But whenever she told Mugota to formalise their relationship, he would accuse her of nagging and threaten to dump her.
MsWanja did not meet any of Mugota's friends or family members. Ms Wanja said Mugota regularly visited her Githurai 45 house but did not spend the night, always claiming that he was going on a business trip.
She told investigators she only learnt of Mugota's death from the media.
This brings to three the number of women who have so far recorded statements with the police after claiming to have been married to Mugota.
Last week, Ms Winnie Wambui and another woman recorded statements with the police after claiming to have been married to Mugota.
Ms Wambui, who lives on Kenyatta Road, Kiambu County where Mugota had built a matrimonial home was the first to come out.
Ms Wambui said Mugota hardly spent the night away from home.
"He was secretive. I never knew any of his friends. However, he used to receive numerous calls from women. I couldn't ask him whom they were because he detested being questioned," said Wambui.
Mugota did not drink or smoke and did not allow his wife to call him or send him a text message, the police statement said.
"From the word go, he set the rules that I should never call him when he was away from home. He used to say: 'When I need you, I'll call you,'" she said.
The police are hoping to get from the women any information that will help in unraveling the murder of Mugota. Mugota was shot six times in broad daylight by a lone gunman who then walked to a getaway car.